Thank you to Jessica Williams for contributing this post. 
While driving down Sunset Blvd. in Hollywood, California, native Swede, Leana Greene, had a vision. Billboards promoting cooking shows surrounded her and she thought, "Why isn't there a show dedicated to teaching people how to cook up a good family?" A working mother of three, Leana was passionate about self-educating through parent lectures. Her children's schools hosted the nation's best experts to explain the latest trends in education, cutting edge child psychology, and new research about our children's neurological development. Leana recognized how lucky she was to live in a metropolis that offered these symposiums.
Seeing the experts' faces and hearing their voices helped her understand their concepts on a whole new level, and it renewed her inspiration to be the best parent she could be. Prompted by the synergy of the billboards, her experience, and recognizing the collective need for help in life's most daunting task, Leana met with a colleague who specialized in commercial filming and asked him to help her create the ideal production studio to film experts and bring this information to parents across the globe!
The result is the groundbreaking KidsInTheHouse.com with more than 8000 1-2 minute videos from over 450 experts. Never before have such an esteemed list of professionals shared one platform and delivered answers to parents' questions one video at a time.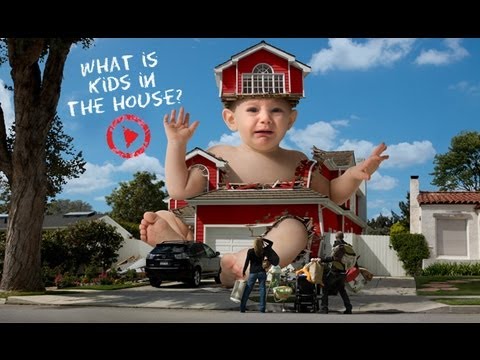 The psychologists, psychiatrists, pediatricians, educators, lawyers, scientists, and best-selling authors answer questions from conception through college. The videos discuss temperament, discipline, emotional intelligence, learning differences, breastfeeding, co-sleeping, birth, pregnancy and include special needs, adoption, divorce, bullying, and more!
Along with triple board certified pediatricians from Harvard, Stanford researchers, and Children's Hospitals' neuropsychologists, Leana felt it was also of value to hear from parents who had lived through challenges and had wisdom to share. Recognizing the way parents reach out to each other through forums and chat rooms for comfort and support, Kids in the House filmed interviews with over 100 parents who share their experiential wisdom. The parents aren't interviewed in an exploitative manner; instead, they share what they wish they knew when they first received a diagnosis for their child, which methods were most effective and what advice didn't work for them.
As a viewer, you can experience a private tutorial with one expert, diving deep into their material and watching up to 45 videos from one expert. Alternatively, you can tackle a single topic such as Autism, dyslexia, teenage substance abuse or sibling rivalry, and create a playlist with several videos from different experts and parents.
Mothering fans will be especially thrilled to recognize some of your favorite Mothering Ask The Experts and All Things Mothering contributors, including Dr. Laura Markham, Dr. Jay Gordon, and Marcy Axness. It is so rewarding to actually see and hear the voice behind the pen that you know and love.
One viewer recently wrote in to Kids in the House: "One of my best friends has cancer. Melanoma. And the treatment she was doing isn't working, so now it is more surgery and chemotherapy and we are all freaked out.She reached out to me for help with finding information for her son and for information that might help her husband. I looked up cancer on Kids in the House and saw all of the videos listed … I mean, SERIOUSLY! Do you realize how amazing that is?!! She won't have to hold a book. She can hit pause if she needs to. She can just close her eyes and listen."