It seems as if every decade delivers a new scheme to get even our youngest babies to sleep through the night. And yep, I figured we were just about due for a book titled The Sleepiest Baby on the Block or 50 Shades of Baby Slumber when, this past lovely Sunday afternoon, I was confronted by the newest baby training idea on the block (which, by the way, makes Ferber sound kind of tame).
Here's a behind-the-scenes play-by-play — a kind of diary of how it went down in real time (oh–except that Facebook seems to bend time, which I'd never really noticed until trying to build a timeline with their posts… and see that their time-stamps jump time-zones!). The identity of folks I don't know has been obscured; for my friends, you're in this with me!
Sunday, 2:30pm — I See a Call Was Sounded on Facebook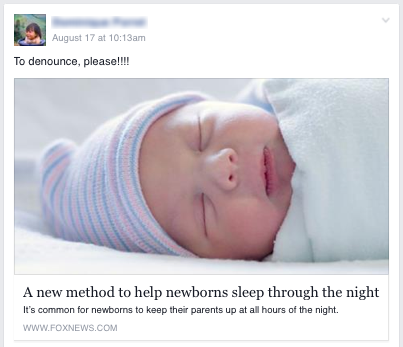 I'm at our neighborhood club's Sunday Jam — live music, that is — so I cannot actually listen to the segment that aired on Fox News. But I can read the article (as can you if you click on the image above). Oy. Really?? Stretch out the feeding intervals during the day to "train a baby's hunger receptors to acclimate to a specific schedule"??
Over the years I have developed ever more serenity about things I cannot change, and am about 97% in remission from Quixote Syndrome. If I dove into the breach over every inane, harmful or even tragic thing I learn about, I'd never be able to tend to my own calling of helping people parent for peace. Stay the course, Marcy, stay focused.
Sunday, 2:40 pm — I See I've Been Specifically Summoned

Birthpower's Barbara Rivera tagged me to please weigh in, along with a few others. Progressive Parenting's Gena Kirby was the first to gamely offer help, as others began to register their thoughts on the matter.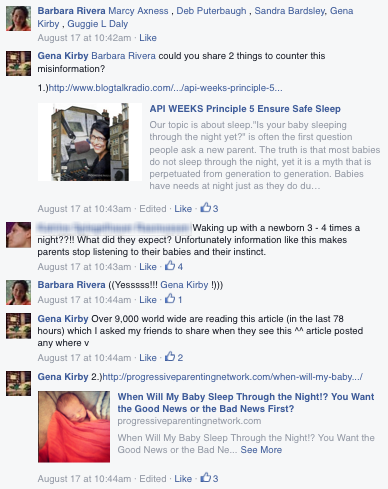 Sunday, 3:30 pm — I Dive Into the Breach W/ Longwinded Comment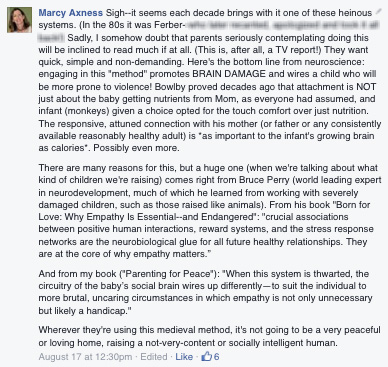 Rather that perpetuate my error, I've blurred it out. One of the pitfalls of diving into the breach without time to reflect and research is that you can get things wrong. (I had a vague memory of Ferber having recanted his position on sleep training — not so; it was his negative position on co-sleeping that he famously recanted, so at least there's that.)
Sunday, 3:36 – 4:32 pm — A Webcast Meeting-of-Minds Is Conceived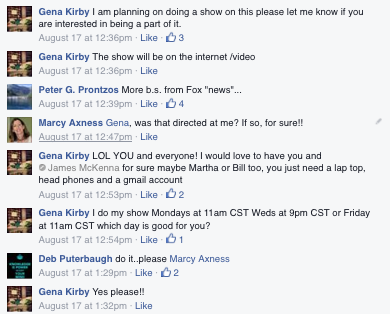 How can I resist such an invitation? I agree, and suggest we do it asap. It's set for…tomorrow first thing in the morning… and it includes video, YIKES!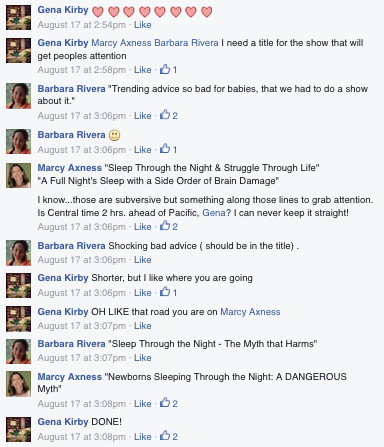 Sunday, 4:29pm — I Geek Out 

Sunday, 4:40pm — It's Set & Announced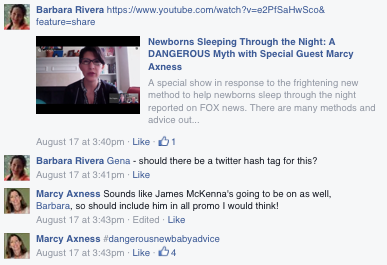 Sunday, 4:45 – 7pm — I Close My Laptop and Enjoy Real Life
Sunday, 7:30 — I Finally Watch the Infamous Fox News Segment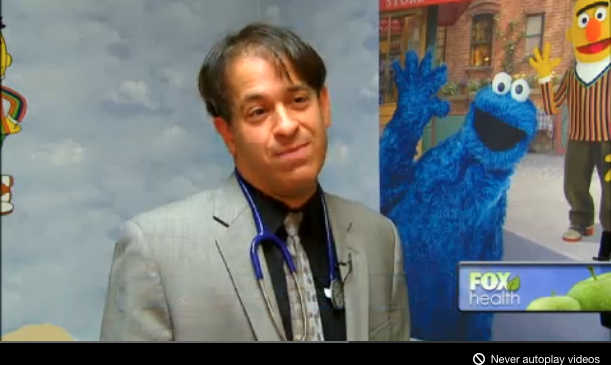 Sunday, 8:30pm — I Peek at the "Newborn Sleep Book" Fan Page
…where controversy is rearing its interesting head. (I'm including a few subsequent comments added since then as well.) This captures some of the leading concerns about the method — including its impact on breastfeeding.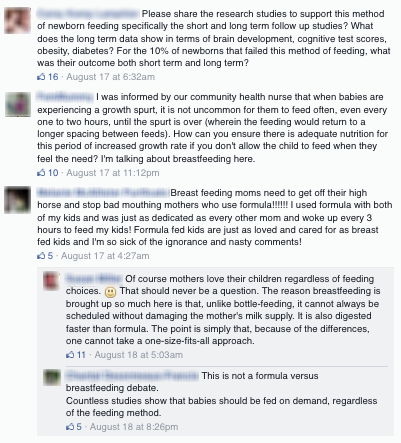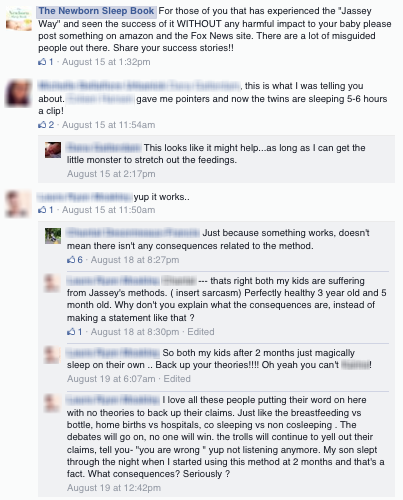 I write a comment and hit "Post" and it seems to go somewhere, yet I cannot see it on the page. Oh, that's it — you have to "Like" a page in order to have anything show up there. (I cannot bring myself to do it.) BUT… mysteriously…
Sunday, 10:53pm — I Receive A Friendly Warning*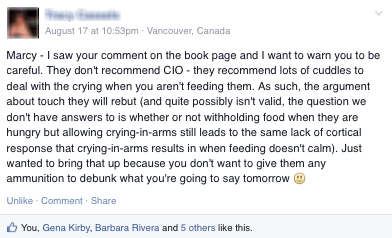 At this point I should be sleeping — I've got an early call in the morning and I'd prefer that my eyes not be bloodshot. I only stopped by Gena's FB page to see if there was any "breaking news" I should know… you know, to sleep on. I could so easily chime in on this point, but decide it's best not to get all riled up before lights out. (*I don't notice Gena's post about having contacted the Jassey brothers — the authors — to invite them to join Dr. McKenna and me on tomorrow morning's show.) I read a few more interesting comments on Gena's page for good measure to send me off to dreamland: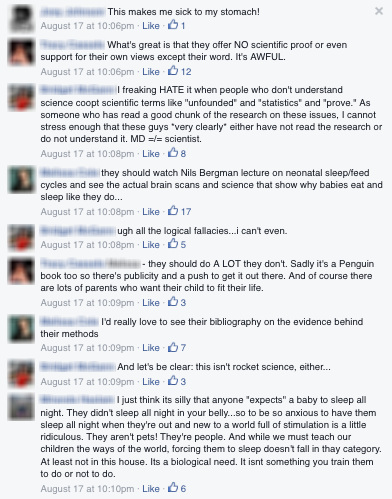 …and one last check-in on the APPPAH group page (where this whole saga first began) turned up an excellent resource for parents confounded by all the differing theories and opinions:

Monday, 7am — (Ugh) Arise and Get Presentable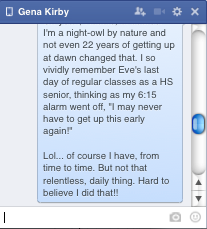 Funny that we're all talking about the
importance of getting sleep, and that is
rather viscerally brought to the forefront
of my consciousness because I'm not a
naturally early riser, and certainly not
"camera ready"… or PEOPLE ready. It
brings back memories of my baby days…
and early dawns. I have HUGE compassion
for parents missing their sleep!
Monday, 8am — Pretend I'm a Cinematographer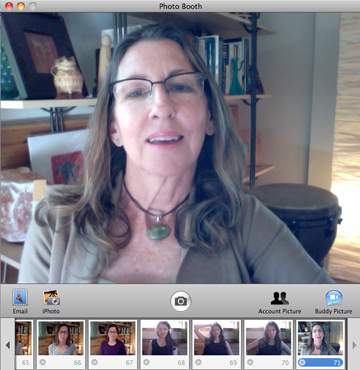 Is it vain to want to look decent when your image is going out to thousands? I think not. Once again, my past life in television production comes in handy: I know how to use a big white piece of poster-board to bounce a little fill light onto this old face. And this is the only time I ever use Photo Booth — to check the shot!

Monday, 8:15 — Last-Minute Fact-Checking & Research
It occurs to me to check on how the Jasseys' book is selling, so I drop by Amazon for a look-see:

At this time, they have 71 reviews with an average 2-star rating. (There have been over 30 people who've added a review since Monday morning.) Their sales ranking is 15 thousand-something out of Amazon's 8 million books. Not impressive for a book that just enjoyed national media coverage. As I am about to say in my opening comments with Gena, I have faith in parents' wisdom!
Monday, 8:30 — Sound & Video Check w/ Gena
She cut her hair — cute! She's nursing Jack — cute!
Monday, 8:53 — Gena Geeks Out

 Monday, 9am — We're Live!
I cited James McKenna's research in my book, so it is such an honor to spend this hour with him. (He is the leading expert on the physiology of mother-infant co-sleeping and its relationship to breastfeeding and to SIDS.) Dr. McKenna does not mince words when it comes to his dismay over the guidelines proposed in this book, particularly because it was written by pediatricians!
All in all, it was lots of fun and very gratifying — to have actually hopped on the ol' Quixotic horse this time!
Top image:
footloosiety through its Creative Commons license