By Jessica Williams for kidsinthehouse.com
Parenting adolescents can be extremely emotionally challenging. Trying to keep your cool during a teenage outburst of blame and hysteria can untether even the most grounded parent.
In a recent KidsintheHouse.com interview, Michael Bradley, Ed.D., Psychologist and author of Yes, Your Teen Is Crazy! Loving Your Kids Without Losing Your Mind, shares great practical advice for communicating with your teenager. He points out how important it is to talk to your kids when there isn't a problem. "Get in the habit of them hearing your voice when there is no issue, there's no business thing going on, so they get used to it. Too often, we only start to talk to our kids when there's a problem and your voice will sound like a smoke detector…and they shut down."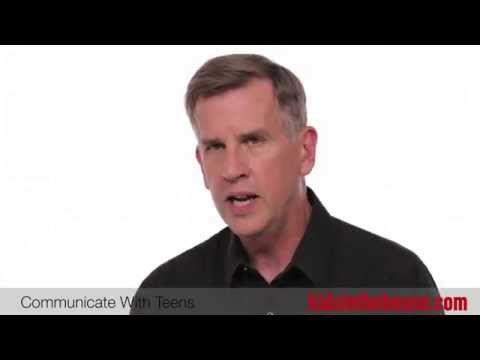 Dr. Bradley also stresses the importance of empathy. Even if you are going to say, "no," to your teen, if you empathize with their point of view, they will better accept your boundaries. Dr. Bradley explains, "All too often, we go in and cut off our kids as they begin to talk, because they want to do something crazy, like go to the beer party at age 14. Rather, ask the kid to explain why she wants to do that? And, as weird as it sounds, affirm what she tells you. If she says, 'Well, everybody's going. All the popular kids do this. I'll look really geeky if I don't go.' Say something like, 'I understand that. I get it. I hear that. And, it will be tough for you not to go. I hear that you want to go to maintain these friends.' Allow her to talk. Ultimately, you tell her she can't go. But, you're showing a respect for her by affirming, acknowledging what she says."
Dr. Bradley tackles the topics of teens and addiction, teenagers and peer pressure, digital pornography, adolescent girl sexuality, shoplifting and more. Watch Michael Bradley's 37 videos on raising teenagers now.
About KidsintheHouse.com
kidsinthehouse.com films videos with the nation's top pediatricians, psychologists, best-selling authors, celebrities, & parents. kidsinthehouse.com has over 8000 videos on conception to college.