Will YOU Like Your Adult Child?
If I've been a bit incommunicado lately it's because I was busy reaping some delicious fruits of parenting for peace: enjoying my adult children! Raucous midnight rounds of "Wise & Otherwise," updates on their interesting lives, great food & rich conversation around the dinner table — holidays to savor!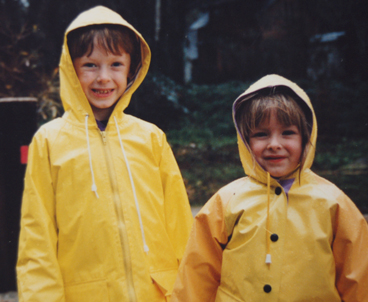 A few days after we had that gorgeous portrait snapped in the forest wilderness where I live, my son Ian posted to Facebook a photo of him and his sister in matching yellow raincoats from oh, about 18 years earlier.
It reminded me of the truth of what journalist Laura Sessions Stepp reported in Our Last Best Shot (a book about the influences during early adolescence — 10 to 15 — that are most strongly associated with psychosocial wellbeing and success):
The majority of adolescents do not turn into some unrecognizable Jekyll and Hyde monster. They just become more of who they are. If we liked them most of the time when they were three, four, and five, chances are we'll like them when they're thirteen, fourteen, and fifteen — most of the time.
Do you like your child most of the time? Do you like you and how you show up with your child most of the time? If you can truly, madly, deeply answer "Yes," then you have set a great trajectory toward a shocking secret. (I'll get to that in a moment.)
But if you're waffly about the answers to those questions, I invite you to look ahead just a few short years. If your child is "a handful" at four, and you don't take assertive, definitive steps to change that dynamic,you're going to have much more than a handful on your hands when he or she is fourteen. And you may not like your adult child.
The good news is, it's pretty simple to change out-of-balance parent-child dynamics, whether it's "She's a handful and I'm a doormat," or "He's out of control and I'm overwhelmed," or even "She's a pretty good kid but I'm still angry most the time." As long as we're willing to turn our gaze toward ourselves and grow, there is always hope and great potential for positive change.
Will YOU Harbor This Shocking Secret?
There's an old saying, You either walk the floor nurturing them when they're small, or pace the floor worrying about them when they're older. Parenting for peace is definitely a frontloaded process: you sow the seeds for healthy development early on, provide the nurturance and culture in which those seeds can best flourish, and then… enjoy the harvest!
The fruits of conscious early parenting are indescribably delicious, almost sinfully so. You may find yourself feeling like you harbor a shocking secret, unspeakable in civilized company: My teen is really interesting and enjoyable to be with. (That's right up there with "I can eat all I want and not gain weight" as a popularity winner.) My heartfelt wish is that not so many years from now you will harbor that shocking secret!!
Raising a Peacemaker to Share with the World
And I wish you the unspeakably special joy of knowing you have raised a creative innovator, a peacemaker poised to make a difference in a challenged world. The silver lining of the so-called empty nest is that you never stop being a parent and your child never stops needing you.
Your grown children indeed need you to be solidly there for them in new ways, so the seeds you've sown and tended over the many years can unfurl into vibrant maturity. Life is their teacher, but you are still needed as an unwavering source of love, counsel, friendship, and enthusiastic support as they experiment with many dimensions of being in the world.
This is when you as a parent for peace are graced to witness your child's emergence as a fully flourishing global citizen with emotional, intellectual and social intelligence and a reverence for both humanity and nature.
Awe is exceeded only by gratitude in the soul of a parent who knows that this is because he or she answered Life's invitation to learn, stretch and grow as their child's parent. When you answer that call with a resounding yes, there are no regrets and no what-ifs.
And there is no peace like that peace.
A Unique Glimpse into My OwnPeaceful Parenting Story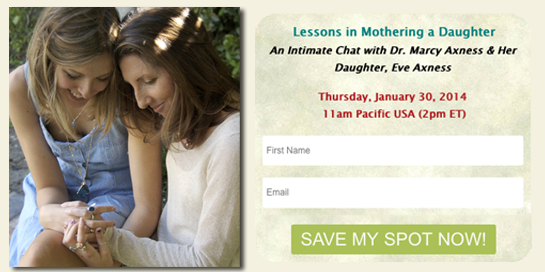 My daughter Eve has gamely accepted my invitation to join me on a teleseminar call to talk all this stuff over. The view from her unique vantage point as the daughter of… me! I really don't know quite what will transpire, but we will dive into stories, recollections, insights, struggles we've shared between then…
…and now!
Knowing the territory, I wouldn't be surprised if we
touch upon things like:
when an older child is afraid to sleep alone
navigating real-world issues like…the dentist's office!
ways to protect her childhood in a prematurely grown-up world
how Waldorf education served (and did not serve) Eve
cultivating deep trust with your tween/teen daughter
the special joy awaiting you: mothering an adult daughter
Thursday, Jan. 30 | 11am Pacific / 2pm Eastern

I always give away goodies on my calls!!  
About Marcy Axness
I'm the author of Parenting for Peace: Raising the Next Generation of Peacemakers, and also the adoption expert on Mothering's expert panel. I write and speak on prenatal, child and parent development and I have a private practice coaching parents-in-progress. I raised two humans, earned a doctorate, and lived to report back. As a gift to Mothering readers I'm offering a unique 7-step parenting tool, a "Quick-Start Guide to Shifting Your Child's Perplexing, Stuck Behaviors."