Jackson Noah arrived May 4th at 12:05 am after a 5 hour labor, weighing in at 8lbs 6oz and 20 1/2" long. He was born in our van off the side of the road after 5min pushing!
~ Birth Story
All Sunday and Monday night I had sporadic, crampy contractions that were 15-30min apart but that petered out the next day. I figured I had several nights of these ahead of me, as I was having no other signs and typically go past my due date which was still a few days away according to my early U/S. Both Monday and Tuesday I was so exhausted and had no appetite and pretty much hung out in my bedroom napping on and off. I was starting to feel antsy about labor and more of a "done" feeling in general with the pregnancy.
Early Tuesday evening after waking up from a nap I hopped in the shower and had 3 out of the blue very strong contractions in 10-15min time. At the peak of the last one I felt a sudden huge bulgy pressure down extremely low and noticed bloody mucous on my towel when I dried off. I have short fingers and have never had luck checking myself but I could tell something was right there and decided to give it a try. Sure enough I felt a huge bulging bag of water right inside the opening, like as big as baby's head and absolutely no cervix around it. It felt so cool! I felt an instant rush of panic mixed with crazy excitement, thinking baby would probably come soon but "ack!" dh was not home and I started picturing me delivering with the assistance of one of my older girls helping. BUT, then my contractions spaced way out and were very mild and irregular. Dh made it home and the mw and her assistant arrived at 7:40pm. Sure enough when she checked me I was complete, and she said once my water broke baby would come... which at the time we all thought could happen at any second. I walked around, squatted, and even practiced pushed a little, and finally it broke at 8:40pm at the peak of a contraction which were still spaced out and on the mild side. Once my water broke I tried pushing and felt nothing. Mw checked me again and discovered I had reversed dilated and baby had slid back up a little higher. I started getting a little worried inside at this point and vocalized that I wondered if there was a tangled or short cord issue or maybe baby was malpositioned and was not going to descend. Mw reassured us that this isn't that uncommon for the bag of water to open the cervix and then for it to go backwards a little once it breaks, but I still had this little inner nagging feeling that something was off. But, baby's heartones were great, so I spent the next 2-3hrs pacing around and squatting, got on hands and knees trying to get a good contraction pattern going and hopefully help baby get into a good position.
Baby stayed happy with good heartones until about 11:30pm at which time he started having mild late decels. At the same time I had slipped into very hard 2min apart contractions but yet made no progress. I was now down to 6cm and baby was -1 to -2 station, and he had previously been +1. We all decided that it was time to head to the hospital with the decels in mind, especially coupled with the inner "off" feeling I had and reverse progress despite hard and frequent contractions. It wasn't a huge emergency as baby would recover and stay great as long as I was laying on my side, but we decided to go to be safe.
The Wildest Ride of Our Lives....
So, we get into the van with dh driving, me laying down in the back seat and mw in passenger seat. Once the van is moving I start having crazy intense contractions and am really not enjoying the bumps. We get 10min down the road and I literally feel baby quickly descend all the way down to the opening in one contraction and yell, "Oh my gosh, this baby is coming out NOW!" Dh quickly pulls over, him and mw jump out, pull my pants off with my nether regions exposed to whoever might be passing by and the cool spring night air rushing in, and baby comes out after a couple of pushes. Mw reassured me as the head was coming out that baby was already beautifully pink and not to worry, that everything was going to be fine... and it was! He came out so pink, with great muscle tone, and was breathing so great. My mw covered us both with a warm blanket she had brought along so we were toasty warm as we headed right back home. I'll never forget how calm and wide eyed my little boy was the ride home. It was obvious he loved the vibration of the van combined with the darkness. There was just enough light from the street lights that I could see his face perfectly and he stared me in the eyes and had a tight grip on my finger with his little hand the whole way. Once we pulled back in the driveway, 10min later, I could feel the placenta right there and pushed it out onto a blue pad the mw had tucked under me. Right after that I walked back into the house, got back in bed and baby latched on and nursed for a long time. He's such a pro at nursing and is such a calm, mellow baby so far! My milk is already in at 2 days pp, and he's had lots of wet and dirty diapers. I'm feeling great this time too and so very, very thankful that things turned out the way they did. I don't hope to experience an automobile birth again, but it has made for some fun story telling and definitely unforgettable memories.
3 Hours Old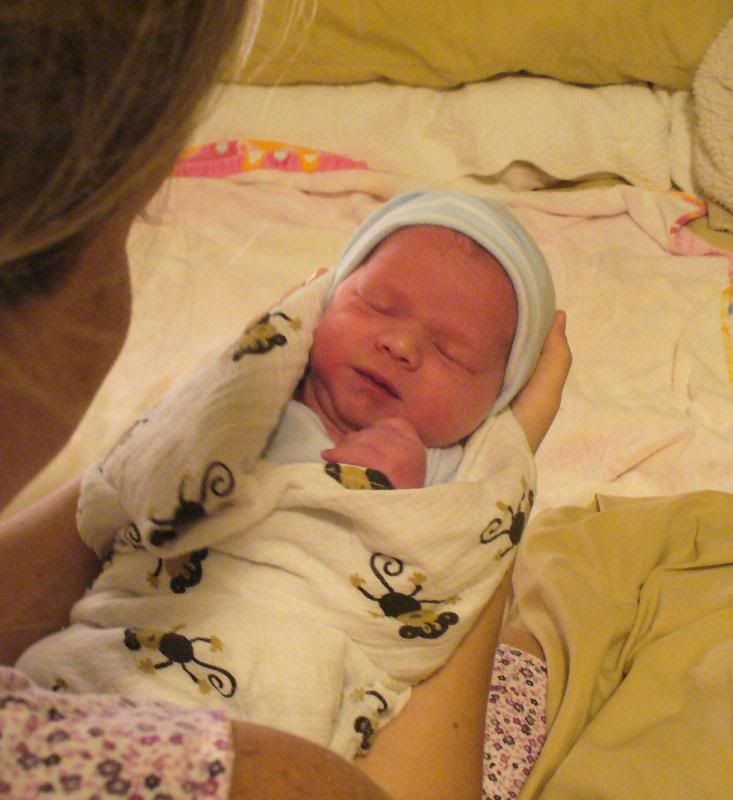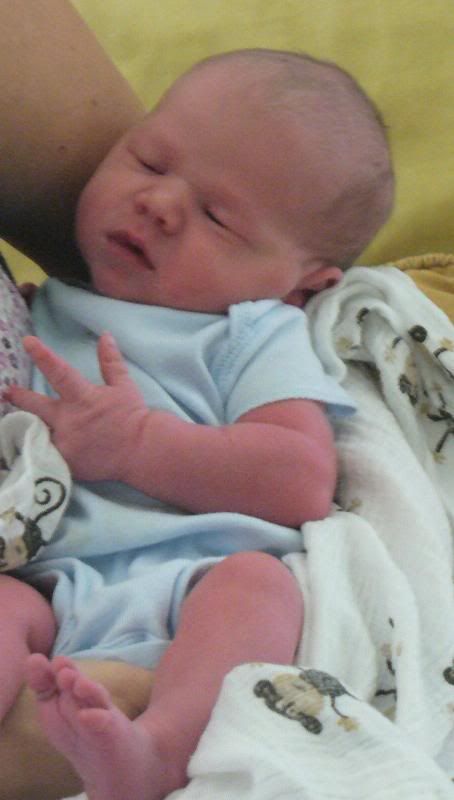 2 Days Old