I had been having on and off 'practice labor' in the evenings/overnight for about 2 weeks.  I could pretty much always tell it was just warm up and not the real thing.  Early Monday morning I woke up to a contraction/pressure wave that seemed very different, when it was over I just fell back to sleep and then it happened again some time later.  When DH was getting up for work at 6am I said I'd get up with him and see if I had anymore.  They were really sporadic and far apart, and got even further apart and less predictable when the boys woke up a short time later.  I couldn't even really time them.  I told him that it seemed like they were going away and he should probably just go to work so that he didn't waste a vacation day.
He continued getting ready and just as he was getting ready to walk out the door around 7am when I changed my mind. Even though I still wasn't sure I was having the baby very soon, I knew it would probably be sometime later that day or night because the pressure waves did feel like 'real' ones even if they were all over the place.  With Quinn (my second baby) I had random sporadic pressure waves all day and then really fast (within the space of about 2-3hrs) they were 10, then 7, then 2 minutes apart and he was born.  Since DH works a little over an hour away he'd need plenty of notice to get back home in time.  Better safe than sorry right?
I always seem to labor best when I am alone in peace and quiet, so after the boys had breakfast and got dressed he took them to the grocery store to get snacks and stock the fridge.  I wasn't really paying attention to the clock, but that was probably around 9:30/9:45.  Before they left I had DH attach my TENS pads to my back.  While they were gone I took the chocolate cake I'd made last week out of the freezer frosted it, then decided to start filling the pool with hot water since our tank is small and it would probably take more than one filling.  I just filled it with straight hot water figuring that as it cooled down during the day we could just add more hot water to keep it at a good temp.  All the while if I had a pressure wave I'd just stop and lean over something, push the button for the TENS and use my Hypnobabies (finger drop and peace cue!) to relax through it.  The pressure waves didn't hurt at all (I used the same combination of techniques with Quinn with the same results) and were still too sporadic to time.  They also seemed to be getting a lot shorter rather than longer and I was a bit worried I'd made the wrong call having DH stay home.
So, to see what was up I decided to do the next one with no relaxation/comfort measures and see what it was like.  Well, after that one I picked up the phone and called DH's cell to tell him and the boys to get home NOW because this was the real thing - except it went to voice mail.  I'm not sure exactly what time that was, but I think it was close to 10:30, maybe 10:15.  I went back to using the TENS and hypnosis for any pressure waves since they only felt like braxton hicks with those measures and were kind of insane without them.  They also were coming rather closely now.  I also went and started up the hose for the pool again, putting in cold water to make it body temp so that I could get in as soon as DH and the kids got back.
DH called me just a few minutes after I'd been unable to reach him - some parts of the grocery store have no reception so he wanted to check and see how I was doing.  Luckily the store is just 5 minutes away and they were home very soon.  When they got back DH brought me some grapes and water and I had a few.  With the next pressure wave I could have sworn my body gave a little push at the peak, so I decided to check what was going on.  The first thing I felt was a bulging bag of waters and I didn't want to accidentally break it, so I didn't feel around for how much cervix was left and just decided I'd better get in the pool.  I told DH to start the video camera and grab my camera and make sure to get pics this time. 
Since I'd felt a contraction without the TENS and Hypnobabies, I didn't really want to be be caught with a contraction while stepping into the pool so I waited until the next one was over and then had DH rip off the TENS pads and I got in just in time to lean over the side when the next one came.  At this point I can definitely tell my body is pushing a bit with each contraction.  I just keep breathing through them and the water and Hypnobabies are just as effective as the TENS and Hypnobabies.  After a bit the pushing really takes me over and while I'm still not feeling anything more than a bit of tightening in my stomach, my thighs really start to ache.  Some time after that I feel the bag pop and a baby's head move down really low. 
As much as labor was pretty easy, fast and painless, pushing (at least the part where the baby was actually coming out/crowning) was not fun or painless, but it only lasted a few minutes, so I can't complain.  I breathed the head out trying to make sure it came really slowly so I didn't tear this time, then the same with the shoulders and then I just gave one big push once the shoulders were out  even though I hadn't had another pressure wave yet so it would be over already and I could meet my baby!  The cord was around the baby's neck once so I just looped it around before lifting the baby out of the water onto my chest. 
Nathan leaned over the side and said something to the effect of "Does it have a penis or not?" He'd been convinced the entire pregnancy that I was having a girl.  Sure enough I checked and he was right!  She was covered in lots of vernix.  I could tell she was breathing, but she came out so relaxed she hadn't made a sound or opened her eyes yet so I rubbed her and talked to her to stimulate her and she gave out a really pissed off sounding yell.  Then I turned to DH and asked what time she was born.  He had forgotten to look, but luckily the camera records the time photos are taken and he had taken one of her right as she was born.
The cord was rather short (well the cord was normal length, but my placenta was at the top of my uterus) so it was hard to get comfy in the pool with her plus she did a massive poop just after she came out and I didn't want to stay in the water.  DH helped me out onto the crib mattress we had on the floor next to the pool and covered us up with towels.    The boys were pretty excited at this point and came over to look at and touch their little sister.  She started rooting around pretty quickly and latched on like she'd been nursing forever.  I just cuddled with her on the mattress for a while (I think a couple hours). 
Going by the video, I was in the pool for 36 minutes before she was born - seemed like much shorter though.  So active labor (or from when I realized that it was the real thing and pressure waves started coming closer together) was about 1hr 15minutes.  It couldn't have been a better or easier birth if I'd been able to plan it out myself.  I didn't tear a bit this time, so I've actually been feeling really great.  She nurses great and sleeps great (well, for a newborn) and the boys just love her so much.
Lilliana Paulina
7lbs 10oz
19 inches
born at 11:13am on January 30th 2012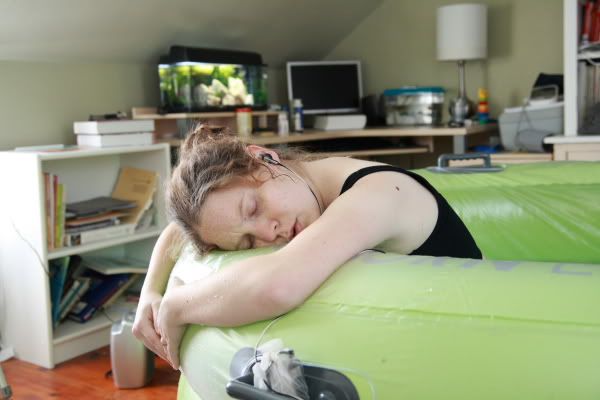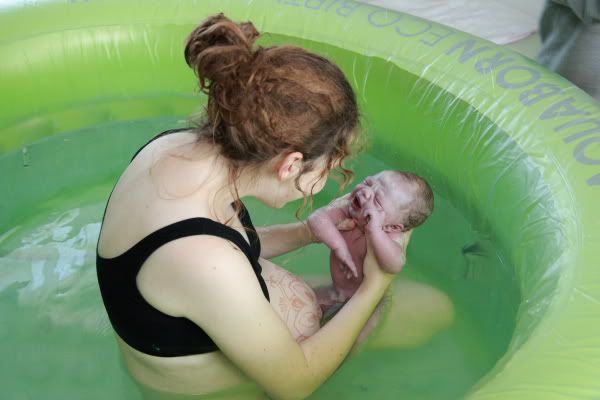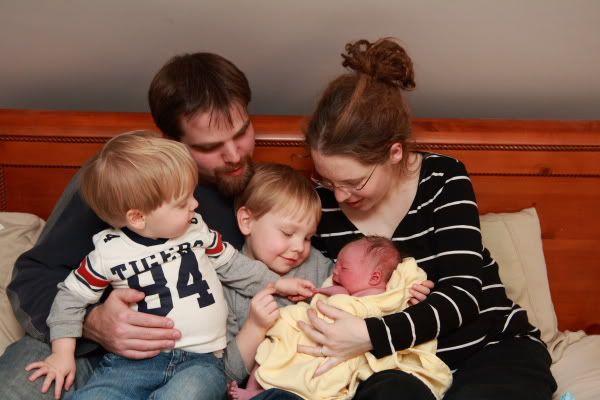 Here she is one year later.  Happy Birthday baby girl!
Edited by Mrs.aLifeofReilly - 1/30/13 at 6:09pm