I'm Pregnant
> The BSL Graduate/Stalking Thread - Winter 2011/2012
lilmom - I am so, so sorry for your loss.
I was so excited for your BFP, and I'm glad you shared with us, even if this LO wasn't able to make it earthside. I hope maybe this will help your body remember that, hey, it can get pregnant! In the meantime, you and your family are in my prayers.
I'm sorry to come on here and see this news, lilmom. I hope you're back with us soon.

How's it going, Kyamo?

And i never made it on last week to say Yay! for a little boy, LTB!

Kyamo-
Can't wait to hear that those contractions have turned into the real thing and that you are holding your little one!  Hope it all goes smoothly.  Keep us posted.
Kyamo - How exciting!  Keep us posted 
After all those contractions on Saturday, I had none on Sunday, but I woke up at 2:05 AM Monday February 20, 2012 (37 weeks 4 days) with a contraction and my water breaking. I called my midwife. Contractions continued, starting about 4-6 minutes apart. They were 2-3 minutes apart by around 5 AM when my midwife arrived. She checked me and I was 5-6 cm dilated, so we left for the hospital around 5:30 AM. I was completely dilated and started pushing around 6:45 AM. Nolan Quinn was born at 7:27 AM, weighing 3370g, 7 lbs 7 oz. I had one small upwards tear that did not require stitches. We were home again around 11 AM, everything went so fast. He has a tiny 11th finger on his left hand, which is barely attached and will need to be removed.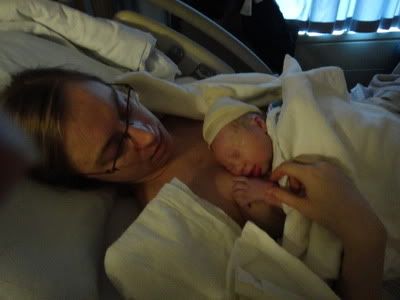 YAY KYAMO!!!!!!! Congratulations on your little bean becoming your little boy!! And WOW... fast labor! Hope you are enjoying snuggling down with your little man! (And I love the name, too!)
Congratulations, Kyamo! He's so tiny and cute. 
Congratulations Kyamo!  He is lovely.  Glad it went so well.  BTW- some think being born with extra fingers is a sign of special abilities.  
Hooray, Kyamo and little Nolan! Sounds like a rather amazing birth for anyone, but esp. for a first time mom!
Congrats, Kyamo! That sounds intense! I'm glad everybody is healthy and you're both already home. Enjoy your babymoon!
lilmom - I am sorry to hear your news. It is just not fair. I am so sorry.
Real quick update--anatomy scan today, everything on both babies looked great, and both are girls!
Yay for the update and for the baby girls, Kinza!! Glad things are going well!!
AFM, next mw appointment Friday! Sick with dh's cold and still dealing with morning sickness off and on, but doing okay.
Took me awhile to get a picture with his eyes open, since the light on the camera made him shut them. This was on Saturday, 5 days old.
Don't have much time nowadays, but I wanted to send hugs to lilmom. I hope you are back here very soon.
Congratulations, Kyamo! I'm glad your labor was fast. Just watch out that the second one could be even faster. 
 My first was under 2.5 hours, and my second 1 hour exactly.
My little girl is 7 weeks old now. She is growing so fast! She was born a bit small, but is eating like crazy. Already up from 3010g to ~4750g this Sunday (we always weigh her after her Sunday bath). She is getting so tall, too. She hardly gets to wear her clothes before they are too small.
Usually, she eats every 2-3 hours during the day but. . . she's sleeping through the night! Since 6 weeks. Before that, she woke up 1x/night for a feeding. She is very high maintenance during the day, though. A real princess. 
 She will not sleep unless in her beloved Ergo (we had a Moby, but she hated it because she could not look out), and I need to be walking around. I was on my feet for half the day yesterday. It's good exercise, at least.
The downside of sleeping through the night is I think I may have had a period already. Not ovulatory, I'm sure. It's weird because I was still not done bleeding from the birth. I was down to hardly noticeable spotting, almost nothing, then I started to bleed again. Very weird.
Hope everyone is well and looking forward to seeing all your beautiful babies!
Congratulations on two girls Kinza!
Sweet.Bee and Kyamo- glad the babies are doing well.

I don't know what is going on with my Mothering subscriptions. I totally missed Kyamo's birth post last week.

He's adorable, Kyamo, and I'm so excited for you!

Any bump pictures, anyone?

N is one month old today. (pic is from a couple of days ago)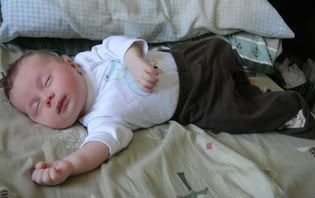 Does someone else want to make a spring thread?
Oh my goodness... he has grown so much, Kyamo!
AFM, our ultrasound today (19 weeks) went well! The tech was mostly concerned with taking measurements, which was sort of a bummer, but we did get to see a few things. Heart is definitely beating, so that is good! And this baby is definitely a BOY. Not ambiguous at all on that point! I'll have to wait a week and a half to see what the midwife has to say about it, but so far so good!
How is everyone else? If no one else volunteers, I can probably start a spring thread Friday. Busy until then.
Lots of familiar faces in here... just peeking around to see what I've missed. I'm hoping to be joining you all soon. I'll be six weeks this weekend. :)  So far, the betas are excellent (supposedly a bit high for averages) and my first u/s is on Monday. I'm not excited yet. I guess once it's more of a sure thing I'll feel better, or something.
Thanks for the photos! So lovely!
I am almost 27 weeks and we are in the middle of another foster placement: a tiny, sweet baby boy. Comparing to our previous placement, this one has been very easy, both physically and mentally. I am loving every moment of it and think I would like to continue in the future, when our own baby boy is older. This pregnancy has been much easier than the one many years ago. At the moment I feel quite "normal", even with the night wakings with the baby and all. Just feel so very, very blessed.
Kparker!!!
I was just stopping by to stalk all my favorite threads and saw you in here with a little timeline under your name!!!!
I am so completely thrilled and ecstatic for you and DH! I hope all continues to go well with the pregnancy, I'll be watching!
AFM
- Its been quiet around here! I miss all the updates from the oldtime BSL Mamas that were preggo with me, so many have just disappeared. If you are around, update us... please!!!!
All is well with us - baby-DS will be 2 at the end of June. He's super adorable and so much fun!!! He is just a really sweet, laidback, silly boy. Very much a mama's boy at this point!
Here are some pics (he did the french fry pose all on his own, he's so goofy!):
Bye for now... will be stalking!
Congratulations kparker!!!!
My fourth IUI was the lucky one too. When are you due?
LTB, so glad your pregnancy and fostering are going so smoothly.
lisko, it's great to see you!! I've missed your presence.
Caleb is absolutely adorable, and I can't believe he's almost 2!!! Give us more details!
kparker, another WAHOOOOOOOOOO for you, lady!!!
LTB, it sounds ilke such a fulfilling experience. I'm glad it's going well!
I'm due around November 17th according to the internets. I'll be referred to the OB/midwife of my choice here in another week and a half. I think that's a big step, leaving the RE for "normal" doctors!
I've been following you ladies (LTB, CACountryGirl, Kinza, Monkey, Sweetest, kparker and sadly lilmom).  I wanted to drop in and say I've graduated! I'm 13 weeks!  I hope the best for all of you in your pregnancies!!
OH, Wissa, so happy for you!!
MBA.. Tell your doc that other civilized countries haven't even thought if giving this iron rice crap.... That is a very American thing. Somehow, though, the babies survive in other countries as well. ;) Though, TBH, I probably would just nod and whatever and not really engage in the conversation. Might also look for a different doc, if at all possible.
I am 29 weeks, fostering a 1.5 month old for another week or so, and doing really well. I am soooo much bigger than in my first pregnancy, though. Acceptable, but would not be my first choice.
Okay, I said weeks ago that I would start a new thread... here it is!
Replies to you ladies over there!