Join Date: Jan 2007
Location: Georgia
Posts: 182
Mentioned: 0 Post(s)
Tagged: 0 Thread(s)
Quoted: 0 Post(s)
hello everyone!
i gave birth at home on the 28th to a beautiful baby girl and i wanted to add some info about her on my signature. when i go to my profile to edit it there isnt an option to. how do i edit it?
thank you
Join Date: Nov 2002
Location: New England
Posts: 15,102
Mentioned: 0 Post(s)
Tagged: 0 Thread(s)
Quoted: 0 Post(s)
Click User CP toward the top left of any page and then choose Edit Signature on the left. Enter what you'd like and choose save.
To include your etsy store link, you will also need to purchase a
Business Signature Advertising Package
. More info on that can be found
here
.
HTH!
---
Wife of 1. Mom of 3. Conquering disability challenges, one achievement at a time.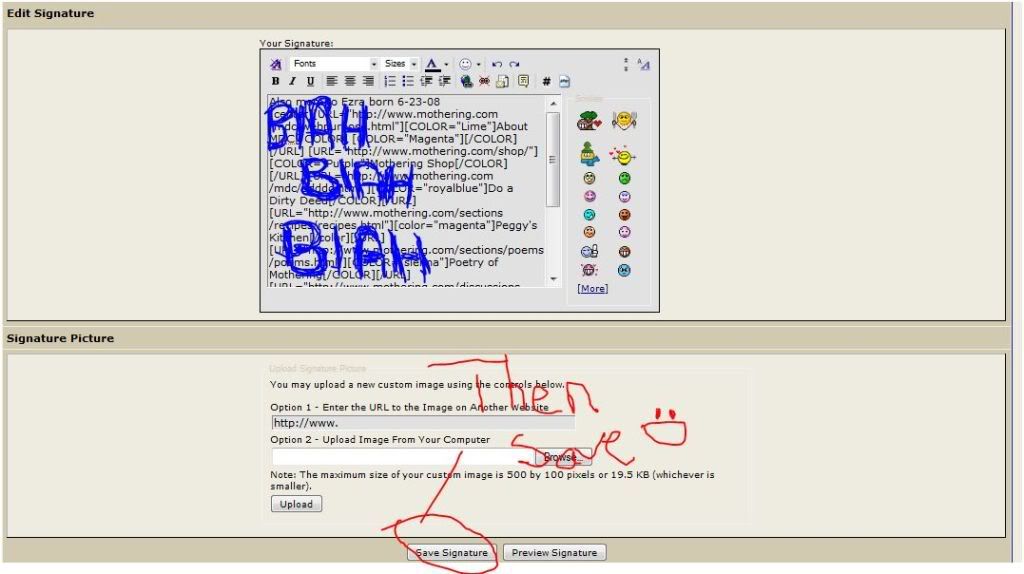 ---
Not all those who wander are lost 
Posting Rules

You may not post new threads

You may not post replies

You may not post attachments

You may not edit your posts

---

HTML code is Off

---
21 members and 9,797 guests
alenamiy , BirthFree , Catx1606 , davilaolga766 , Dooby , Dovenoir , girlspn , hillymum , IsaFrench , jamesmorrow , katelove , lisak1234 , moominmamma , redsally , rhutes , RollerCoasterMama , Springshowers , t2009 , Tara 1st Timer , transylvania_mom
Most users ever online was 449,755, 06-25-2014 at 12:21 PM.