AmandaHope, my baby who had trouble with almost everything was fine with eggs. I have never been on an all out elimination diet but I've read the experience of many women who have gone through it. I had such an awful time with food with the first 2 that when I stock my freezer for this new babe it will be loaded with dairy-free, wheat-free goodies. I want a peaceful postpartum period. Osh's wasn't bad at all but Ari's was bad enough for 3 kids.

Starling, I feel you on the kid getting huge! We just hit LOA yesterday and she is all about sticking her bum out. My son is 8 and I have never retracted his. I feel like some old school docs will tell you you have to retract to clean under it but it's not necessary and many people will tell you it has the possibility to cause trouble. A boy won't hurt himself by retracting too hard. It's a very nerve rich area and he is the only one who can tell for certain how much pressure is too much. Sometimes a child will be retracted when it's not ready and then adhesions grow to reconnect the tissue, which makes for problems down the line. So I'm in the "he will retract when the time is right and it is a process that takes time" camp. Just like a girl, rinsing in the shower or bath is adequate for cleaning. I'm told that soap stings. It is a mucus membrain, after all. I can't spoiler from my phone but you are not alone. I don't talk about my occasional paranoia very often but with Ari it got so bad that I probably could have used some medication. I was in OB and peds clinicals at the time of her pregnancy, tho. This time I'm more calm but irrational fear still catches me off guard on occasion. I try to take a breath and let it go. Your PURPLE crying got me more than your spoiler'd bit because of that awful peds clinical and all the children who lived in a home because someone shook them. Ari was a fussy fussy baby and I didn't leave her with anyone until it was under control. Randomly she cried when she was watched because she hated the diaper my friend put on her but the friend was great and said, I would rather be peed on than listen to this kid scream. She removed the dipe and the crying dried up and all pee went into the potty where it belongs. It's so scary tho. To have to leave a tiny baby with anyone.

QOTD: what position is everyone's baby in? Where is he or she kicking and what body parts can you feel?

I get a lot of movement up top and in the right lower. I can feel a back and a bum up the left side of my belly. That was great because I had about a million people feeling my belly yesterday and I could point out landmarks.

Seraf - Yes, Sept - Nov are VERY busy for me. It's much like April - July. Once I get through Thanksgiving, then I'll be all set...just in time for the little man. Then I'll be off with him until early March. The only downside to having a baby Dec 2 is that DP is in retail management. We're crossing EVERYTHING we have that he doesn't arrive on Black Friday. If it were up to DP, he'd arrive Dec 31. Ha!
Starling - Yes, 5 showers! My head is spinning really with trying to schedule everything in the next couple months. Because of our work schedules (and the fact all the showers are 3-10 hours away), we are only available to squeeze all these in by mid-October. Everyone is so scattered that there's no way to combine them all. :( But....to answer your question, I think that because DS is was adopted at 1.5, DP didn't have a shower for him. Plus, this my first 'birth baby', so I think that puts excitement in it for everyone. And sadly, I wasn't with DP when she first adopted DS, so that's part of it I am sure. It's very kind of everyone, and to be honest, I'd rather plan the shower than be the center of attention. It's similar to my job, I get to be around all these amazing music artists, actors/actresses, sports figures, etc, but I'd rather be in the back planning their security, stage plot, etc than to be in the spotlight.
AFU - We're starting on the nursery this weekend, which is currently our office! Our furniture came last week and DP is busting to get it put together. My parents bought us a stroller, car seat and extra base this week, so we're stoked to get that on Tuesday. We spent waaaaay more than we should have, but every car seat I looked at, I just didn't feel like he'd be safe. Finally, I found the Chicco Keyfit 30 (in red) at Target and decided it looked far more safe than any other I've seen. Paranoid momma I guess. But, I love it!
Hi Everyone,

2ez: It's exciting that you're getting your nursery set up! It sounds like you're getting lots of things that you need. And I bet with your showers you'll be getting a lot more!

QOTD: When my midwife checked me last week, the babe was head down with his/her bum on my right and his/her feet towards my left. I feel movement all over, so I generally can't really tell what position he/she is in. Occasionally I think I can identify a foot or a bum, but most of the time I feel clueless.

Starling: Like you, I have an overdeveloped ability to imagine bad outcomes with this baby. My wife talks about the baby, and I think (and sometimes say) "IF we have a baby." I don't think of myself as being overly pessimistic in general, but somehow I just don't feel very trusting that everything will continue to go well. I blame it on the challenging conception and miscarriage, but it is interesting that you're experiencing similar feelings related to what you've seen in your work. Anyway, I'm sorry that you're feeling scared. I hope that your midwife appointment this week is reassuring.

Seraf: People are definitely giving me seats now on the bus and the subway. I love it, even though I'm still totally fine standing. I'm sorry that you may have to have challenging conversations with Sara's family about circumcision. Maybe you'll have a girl and you won't have to deal with it. Hey, how are things going with your OB practice? Did they decide they could keep you without the 20 week ultrasound? How are you liking them these days?

AmandaHope: I'm sorry that you're having to be off dairy, but I'm glad it is helping a little bit. How is your DD1 feeling about Lilah these days?

Amy: What great pictures! You certainly have a cutie. I hope things are continuing to go well!

Hi to everyone else!

AFM: Things are going well here. I think I can now feel the baby hiccuping, so that's fun. Another new thing this week is that it is now hard to turn over in bed. I don't feel that big yet, but there are some movements that are getting tricky!

2ez, you sound like you will be super busy. Will you be able to keep up with the frantic pace and long hours when you're so far along? I would love to see your nursery pics.

Escher, hugs kid, that miscarriage really shook your confidence. Really, a one or 2 time argument about circ is a lot easier than a lifetime of raising a girl. Lol. I haven't been back to the OB yet. I pushed back the appointment 2 weeks. I will have an update Thursday.

Last night I swerved to miss a deer and skidded all over the road, even had my car up on 2 wheels briefly before i wound up facing backward on the highway Scary stuff. No one was coming and all is well now.

Escher - I am like you - I have NO Clue where he is and what the kics mean. I just know he feels like a kangaroo!
Seraf: SCARY!  I'm so glad you are safe!  Don't they say that despite your impulses, it is better to go ahead and hit the deer?  I'm not sure I could either, but I worry about you.
Escher: My unsolicited advice to help boost your confidence is to get the Hypnobabies CDs from the library.  The pregnancy affirmations CD is really nice and very positive. It sounds like you could use some help developing positive thought patterns around the pregnancy and baby.  And though everyone is different, I can honestly say that the birthing day affirmations that I listened to in the car during labor genuinely helped me cope, open up, and not to fear the sensation/pain of the contractions.  I think those CDs may have helped me more than all my Bradley classes, though I enjoyed the classes for other reasons. 
Starling: I've had a few scary moments since Lilah was born--never that I would hurt her, but that something else could happen (the dog, for example).  I think those flashes of frightening thoughts are very hormone related, which is what I remind myself when they come.  Not fun, though.  Not at all.  Hang in there.
EZ: You look great!  Good luck putting the nursery together.  It is so satisfying when it is done, even though for us so far, it is just a place to change diapers and store clothes. 
AFM: Just got back from my doula's house, where I bought a Cozy carrier (My Tai style--spelling?).  I think I'm using L's fussiness/colic as an excuse to buy stuff, which probably isn't wise, but it turns out that she yells like crazy in the Moby, and I also find it hard and slow to put on and off (especially outside the house) and hard to nurse in.  The Cozy has her upright but able to nurse and is so easy to take on and off.  And my doula still uses it all the time with her two year old, so I'm hoping we get some life out of it.  Amazing how ready I am to spend money we don't really have and to give up all my favorite foods based on the possibility that it will help her (and me) feel better.  She had another really rough night two nights ago but a calm night last night.  It varies.  I'm glad we have the nerves and the work/sleep flexibility to make this work.  Speaking of sleep, I'm off for a nap!  Take care, all.
hi ladies,
we had our 20 week u/s and ob appt this morning and we are having......a healthy baby GIRL!!!!!  :)  ds1 and i were right.  we are so excited.  we're hanging out on the january ddc and it is raining girls over there!
g
Seraf- I am so glad you are ok. That is terrifying. I bet your heart was racing. Have you guys been enjoying this weather as much as we have? I finally feel like I can do things with lennon like take him on walks and to the park! In August, go figure
Ahope: I see you are taking wheat and dairy out of your diet. I am hoping I don't have to do that soon. Harrison is doing better a lot of the time but there is still a part of everyday where he is screaming unless  he is nursing and then he nurses so much that he spits up all over the place. It is so frustrating for both of us. Last night it was from 9 to 1:30AM. Not fun. Let me know how things are going. Lennon was so not a puker at all but he has an actual dairy allergy that has not gone away yet. We are a pretty dairy free house most of the time. I just miss ranch dressing. A lot :) Hmmm post baby body. I hate it. I do not like the way I look right now at all, actually I had a meltdown about it this weekend. It isn't so much the fat but how wide I get. My body spreads SO much ( I guess because I am 4 ft 10?) and it takes a really long time to get it back into position. It is really frustrating how large my body seems right now. I tried on a pair of pants that Chels was laughing at saying they would fit her mom (who is not a small lady) and they barely went over my hips. Not a good day. I wish I could enjoy my mommy's tummy :) Luckily it is skirt season or I would be screwed. I need to get some new work pants.
Chels doesn't really ever wake up but it is because I just do it all. I am a little bit controlling and type A so I tend to just do everything before anyone else can do it becuase I am faster at it. She is fairly useless at night and doesn't ever fully wake up even for diaper changes (read: baby pee ALL over the bed) so I just do it myself. The hardest part so far is working one handed, It is taking some getting used to but i seem to be getting it all done. 
I didnt end up working Friday because I had mastitis, for real this time. SO I went to the midwife and she said it was my body telling me to slow down. So I relaxed all morning and tried to relax all afternoon. I am feeling better now and didn't schedule any work until Saturday and baby H gets to come with me!! Yay!!!
My left hand is tired of typing. To everyone else, i need belly pics. Thanks!
Hi, friends!
I'm venturing over here because I'm actually starting to believe that I might, maybe, actually be pregnant. DP came with me to our first OB ultrasound today and saw our little bean (well, the u/s tech said it was a grain of rice—it'll be a bean next week!) and it was just flickering away in there with a little heartbeat and everything! I don't think I quite believe it yet, but we have a new weird picture to add to the growing collection on the fridge, and I am going to pretend that I am confident that things will continue growing well.
Seraf—yikes! I'm glad you're ok—I've never had one run out in front of me (though plenty of bunnies have gone to bunny heaven beneath my screeching tires) but I'm terrified of it happening.
Amanda—I think it's Mei Tai—and I've heard that you're meant to go and get a cocktail whenever you put it on (if you replace the 'e' with an 'a' anyway)…
Indigo—yay for a daughter! You must be so excited!
MizYellow—will anyone be there to appreciate his smooshy babyness? Or do you get him all to yourself at the office?
Isa - isn't it amazing the first time you see the heartbeat? The first time we saw it was in between bleed outs from the SCH. I poured tears of joy when I saw it as I was convinced I had had a miscarriage. So happy for you! They only get better from here on out!
Indigo - a GIRL! Congrats! I know you guys must be excited.
Here's a 24wk pict. Please excuse the bad hair. I was 102 that day and with as much hair as I have, the hat was a MUST!
Indigo:
a girl!!!!!!!!!!!!!!!!!!!!!!!!!!!!!!! Congrats!!
2ez- Cute belly!!!!!
Isa- How far along are you? Glad to have you here, even though I am not really supposed to still be hanging out here!! Seeing that heartbeat is breathtaking. Congrats:) I will be leading a team meeting so there will be several people there to squish him. I am sure we will get soooo much work done ;)
AmandaHope, you worry about me in general?  I think you're right that you're supposed to no swerve.  It makes me think of Beatle Juice.  I surely not uncommon to see upward of a dozen deer on a single drive.  You just hope they are far away or you see them soon enough.
Indigo!  A girl is so fun (yeah, I just accused them of being high drama 2 or 3 posts ago, but yours will be an angel).
Yellow, I'm enjoying the weather very much, thank you.  Are you getting out to the park?  That's awesome.  Sorry to hear about the mastitis.  It really sucks.  
Isa, the whole rest of parenting is pretending like you know everything will go well.  It's so hard to just trust and let go when you've had a hard time getting started, but I'm thrilled you're here.  Pride playgroup 2012 is in the planning stages!
2ez, what a cute belly!  We are carrying so differently!  My belly is sitting on my lap.  Actually Sara just came home from work and in her sleepy state forgot I was pregnant and almost choked on her vitamins when she saw how fat I've gotten.  Then she remembered.  A guy at work said, "Wow you're bigger than when I saw you last week!  Are you going to get bigger?"  I laughed and told him that the baby still needed to triple her weight, so I was planning on getting much much bigger.
No deer on the way home tonight.  I think the baby is trying to tell me something in morse code.  I don't know morse code, tho, so I guess I'll have to wait til she learns to talk.  The guy I take care of is convinced she's a boy.  I'm carrying low, which is supposed to be boy, right?  And my line is finally showing up.  I'll take a pic tomorrow or the next day.  I forgot my camera someplace.  Or maybe a deer took it.
Hooray, indigo!!! So excited for you to add a girl to your family :)
 
Indigo ... Exciting news about your little girl!  I bet you have a long list of names from before you knew that your boys were boys?
2ez ... You look fabulous, mama! 
seraf ... A deer hit me once.  Seriously ... I was driving to a rural ambulance station at 4 o'clock in the morning, with four lanes of highway available to me, with not a car in sight.  The deer leapt out in front of me, so I started heading waaaay left, and wouldn't you know it, the deer did too!  So I headed back to the right, just in time for the deer to change his mind and head back that way too.  We collided mid-road, me with my eyes squeezed shut as I heard this god-awful crunch.  I kept my eyes closed, with the car stopped in the middle of the road for a good long time, and when I opened them, the deer was gone, and my car's front end was crumpled up and there was a trail of blood lurching into the bushes.  I pulled the car off the road and wept for about an hour before I could get back in my car and limped it to the ambulance station.  My RCMP friend there took pictures to prove it was a deer (hair, blood, etc) because I was stuck manning the station and couldn't take the car in for several days, and it rained and howled wind, so she took the pics and put them on a cd and 'vouched' for me (RCMP = cop) that it was a deer.  She told me to tell the insurance guy that the deer hit me, not the other way around.  One of the First Nations locals went back and made sure that the deer was dead, and brought it home to butcher it, and presented me with yummy deer sausages. 
isa ... So exciting to see you here!  I love hearing the heartbeat, and especially so that very first time.  DP recorded our daughter's 7 week u/s heartbeat on her cell phone, and even though she hasn't had a plan on that phone for the last two plus years, she still has it for the heartbeat recording
AmandaH ... I'm a big fan of mei tai style carriers, love 'em.  Even a bigger fan of the woven wraps.  Check out some videos on youtube ... you might get excited to spend another chunk of money!  I wasn't a fan of the moby-style wrap either.  Too much fiddling.  I also liked the ring sling for those early months. 
Isa: WELCOME and CONGRATS on the heartbeat! 
What fantastic news! I'm so happy for you both and relieved that the scary early part of the pregnancy is going well so far.  Fingers crossed it only gets easier and better from here.  How was your trip to OR?  Yes--Mei Tai--and I'd LOVE to have that drink. 
2EZ: looking great!  You definitely look preggo, and you'll be thrilled at how round your belly gets soon.
Indigo: WOW!  A girl!  How fun to have boys and a girl in your family.  You must be thrilled! 
Yellow: LOVE the profile pic.  It has a wonderful classic look. Btw, Lilah does the exact same thing in the late afternoons/evenings: cries intermittently (not constantly, thankfully) but will only settle by nursing, and then she spits up everywhere.  And I am block nursing, but I just keep getting more let-down, even on the same side.  Someone on the facebook MDC page suggested that this might suggest reflux, since sipping milk helps keep the acid down. Sigh.  I really don't know.  I'm so sorry about the mastitis, but it probably is a good thing for you take it easier and to put off work for a bit longer.  Saturday sounds better, since you can bring Harrison. 
Starling: I'll have to check out the woven wraps.  I thought they were made of a long piece of fabric like the moby, just a different fabric, so I wasn't too excited about another hard-to-handle solution...but I'll look at youtube. Thanks also for the info on the PURPLE campaign.  Lilah doesn't fit all the criteria, but it is still helpful and opened up a good conversation with DP (who is actually more patient and gets less frazzled with the crying than I do--bless her).  And the Kozy carrier (my new Mei-Tai style carrier) is working beautifully--Lilah is sleeping in it now, and she can nurse in it, though I think that will get even easier once she gets more head control.  I love having her so close.  How is your belly coming along? Time for another pic?  Dramatic deer story, btw.  Wow.  With a great ending. 
Seraf: No, I don't worry about you in general.  You seem way too competent for that.  But I do worry about car accidents, and I'm really glad you're ok.  Pride 2012 playgroup sounds fabulous to me. 
AFM: DP saved me overnight, since L wouldn't go down to sleep (fussing, fussing, could hold no more milk) and I was crashing hard.  She was up until 2am, I think, and then headed to her first work meeting of the year early this morning.  Poor thing.  But I'm SO grateful and will make sure she gets a chance to nap later this afternoon.  Just L and me this morning--so far so good.
Isa--Welcome to Q&P! It was great to hang out with you last week! DP and DD really enjoyed hanging with you too. What fun to meet other people from MDC and the blogosphere
. And congrats on seeing the heartbeat for the first time! How are you feeling? Any changes yet?
2ez--Gorgeous baby bump! You look fantastic! I've been meaning to email you forever, but I can barely keep up with this board! Hope all is well and that you aren't working too hard through the summer heat. Yay on the furniture and crazy upcoming shower schedule!
indigo--So excited to hear your news! You'll have so much fun! Glad the baby is looking healthy and doing well!
escher--Don't you just love those cute little baby hiccups? I'm sorry that you're in a place of distrust about your pregnancy and having a healthy baby. I don't have any advice, but know that I am sending good energy your way for peace and solace in finding that good place.
seraf--Totally scary about the close encounter with the deer! I am so relieved that you are okay. I can never remember what I'm supposed to do in those situations--this coming from someone who almost wrecked her own vehicle driving out her work parking lot last week because a baby dragonfly flew into the car.
Yellow and Ahope--i am still enjoying your updates and am generally too lazy to go to Queer and Newborn, so keep posting and updating as often as you need to. It's a good reminder for me that there is actually something at the end of this journey, which has so far been nausea and exhaustion!
AFM--I will be hitting the 14 week mark tomorrow (wow it feels good to say that). I have been able to taper off the Zofran, so I'm down to 1/2 to 1 pill per day which is a huge accomplishment. Of course, now I'm reading this fantastic book about toxins and the placenta and pregnancy so I have a whole new set of fears, but at least I'm able to read again without getting motion-sick.
DD has been so incredibly cute my blossoming belly and she loves to kiss it and talk to the baby. I am definitely getting a noticeable bump. I also feel slightly ungrounded, like my center of gravity is in a totally different place. I feel like I'm waddling already, or maybe it's just that I'm winded from walking the shortest of distances. Still holding out for feeling closer to normal. We leave for a summer trip in the mountains next weekend. I am sincerely keeping my fingers crossed that the m/s will be a thing of the past so then so I can enjoy the woods. And the best part? No camping for us! This time it's a vacation home with all the amenities. Alright, g'night. Hope everyone is well and I'm hoping to catch up on more personals in the coming days.
isa, yay for a wee bean and a heartbeat!!!  that's the most amazing sight to me - that something so tiny can already have that little flicker of life.  :)  big congrats to you and your dp!!
qmama, i'm excited for your 14 week mark and also happy to hear that your m/s is tapering off.  dp has not been so lucky however and is still taking 2 zofran per day.  ds1 has been loving on dp's belly a lot.  ds2 we think is just copying him because he doesn't have much clue what is going on, lol!
starling - we are using the girls name that we had picked out back in 2006 when i was pregnant with ds1!!!  her name will be dp's mom's name (she passed away in august 6 years ago) and my mum's name.  :) 
we are very excited to be having a girl and very thankful for a healthy baby. :)
afu - dp's contract is up this week.  she has been talking to several people to see if she'll be offered a ftp or have her contract extended.  it is getting harder for her to disguise the belly now so we don't know what will end up happening.  they do love her work so we are keeping our fingers crossed.  other than that, just dealing with ds2's sleeplessness due to yet another canine coming in (lower right) and watching our new favourite show "rizzoli and isles".  even given that angie harmon and sasha alexander are stunning, there is a ton of lesbian subtext that makes us giggle.
g
2EZ—look how cute and bumpy you are! I love it!

Mizyellow—I was 6 weeks yesterday, so only 6 more to go before I can tell people. Of course since I made the mistake of telling my exuberant mother, and since one of my chatty high school friends reads my blog, I am not sure that there will be anyone left to tell at that point, other than my conservative (if begrudgingly supportive) grandparents.

Seraf—you have to watch out for those deer. They'll run out in front of you so you swerve and don't notice their buddies raiding your purse.

Ahope—glad the new sling is working out and happy with her new digs! I hope the dairy thing solves her problem, since it would be a HUGE sacrifice for me—I'd hate to think you need to try giving up anything else! Oregon was lovely—although I couldn't do any of the fun things that people go there for (biking, kayaking, mountain climbing, etc). I did manage to eat at at least 15 restaurants and food carts, though, so I count the trip as a total success!

Qmama—you, too! It was so nice to meet you all, and I just wanted to say that I had a very hard time not distracting you with a deer in the woods so I could make off with your DD—she's such a charmer! I had a little wave of actual maybe-I'm-going-to-be-sick nausea this morning. Which was quickly followed by the sickening (ha!) thought that it was probably NOTHING like what's coming. Ugh. Mostly just tired all the time, and cranky, and my increasingly giant boobs are awfully sore.

Indigo—FX for good news for you on the job front! And I'm glad that you finally get to honor your DP's mum with the name after all this time!


Hey ladies!!  This is it!!  I'm back to work full time as of today and while it's breaking my heart to be away from Alice, I'm going to console myself with the fact that I'll be able to chat with you wonderful ones every day (for real! I mean it!!) or at least until Mean Girl catches me....
I won't do a lot of personals today but I will say WOOHOO!!! and congrats to Indigo for the exciting news~ a girl will be wonderfully different for you. So excited!
And to say how TOTALLY CUTE AND BUMPY you are EZ!!  Enjoy it!!!
SO yes, short today, but I should be more of a regular, which is good because I miss you all.  
Just stopping in to (very belatedly) say WAHOOO Ahope, for your non-induction, full term birth.  I read your birth story and cheered aloud.  I knew we could do it!
My postpartum has been very difficult-- the PUPPS was unbelievable-- but I'm just starting to feel like myself again.  It's great to hear about so many happy babies and pregnancies going on here.  Our little guy is a non-put-downable (but wonderful) baby, and my laptop is on the fritz, so I'm pretty out of the loop, but thank you guys for all the support, and I'll check in when I can.  Long, healthy, boring pregnancies to all of you!
Hi, Library!  Glad you are finding a silver lining on your first day back at work.  It will be great to hear more from you.
Seraf: (WARNING: poop talk that might be avoided by first trimester preggos with sensitive gag reflexes).  Against all odds, we are (ok, I am) doing some EC with Lilah.  She went in the bathroom 5 times yesterday!  The rather gross part is that she goes in the sink.  It is too hard to hold her over the toilet (and to get the aim right when it is more of a downward spray), and I need to be able to see in the mirror what is going on.  This is what my friend Maya did with her super colicky baby, who refused at only weeks of age to poop in a diaper.  At all.  Lilah poops in diapers fine, but I can easily tell when she needs to go (grunting), and I do think she expels more gas over the sink because of the lack of a diaper in her way and because of the way that I hold her (by the thighs, knees to her belly).  She did it every time I held her that way yesterday--it was sort of amazing.  She's doing it even more readily today. DP is grossed out by the baby poop in the sink, but I do clean it afterward, and really, it rinses right down. It is 98% liquid, after all.  DP has a question for you about EC: How soon and easily do most EC kids transition from being brought to the bathroom by a caregiver who reads their signals to self-initiating bathroom use?  In other words, do they "self-train" earlier than kids in diapers?  I would expect so, but I wasn't sure.  They still have to develop the awareness of the need to go and the discipline to get to the toilet, after all. 
Isa: Glad you had a good trip in culinary terms.  And still so happy about your heartbeat!
Pigirl: Great to hear from you, and thanks for the cheers!  I'm thrilled that both of us avoided the pitfalls of our first birth experiences.  Whew!  But I'm SO SORRY about the PUPPS.  Can you say more about it? I just don't know much.  Is it gone now?  Are you breastfeeding ok despite all the discomfort?  Non-put-downable sounds challenging.  How are you holding up?
AFM: Well, I suspect that Lilah has reflux and convinced our doc to try meds (basically Pepsid for babies).  This is our first night with her on it, and she is still super fussy.  If she doesn't improve in the next day or two, we'll have to conclude that my theory was wrong.  Sigh.  Worth a try, though.  Man, I miss food.  The (slightly messed up) silver lining is that I'm only 8.5 lbs above my pre-preggo weight. 
quick update on our daycare complaints - after my determination to have our case against ds1's previous daycare reviewed i heard back from the complaint unit director today and the daycare has now been cited for "inappropriate handing of a child". It will go on their permanent record and be available for anyone who searches on this center. It will also be a red flag should any further incidents occur there. My hope is this is enough of a kick in the ass to the director that it will NEVER happen to another child. Still waiting on the VP of all the centers in our area to get back to me on the formal complaint.
g
Starling, your deer story was as humerous as any.  I haven't been hit by a deer yet in my adult life.  I'm usually pretty vigilant, this one just snuck up on me.  The last time I was involved in a deer collision I was 10 and my mom was pregnant and driving.  It was a fawn and somehow the hit was just right so there was a cavern where the hood and radiator had been.  She bawled for hours with all the hormones.  It was crazy.
AmandaHope, yay for your DP stepping up and taking night duty.  You've said she has chronic fatigue?  That makes it all the more impressive.  Yay for EC.  I think it's great fun.  About the sink, yeah, I've used it.  I had one of those scrub brushes that has a soap dispenser to swish it out every time someone used it as a potty.  It was probably the cleanest my sink has ever been.  Randomly I thought the sink was easier with a boy because my girl had pee that ran up her back and onto my shirt if I stood up to potty her.  Regarding self initiation, it's different with every family.  I considered my kids to be potty trained at 19 and 18 months.  They weren't independent with their clothes, but they were reliably dry all the time (an accident once a month or less).  They told me they needed to go and I helped.  I know a lot of the ladies on the EC board say their kid is potty independent around 22-24 months.  I think part of that is that a smaller child has a harder time with pants.  Lots of little girls who wear dresses without undies can take themselves shortly after they start walking, but big milestones also distract from bladder awareness.  In my experience it's certainly true that they can go more easily without a diaper.  Osha used to tell me he needed the toilet every time he wanted to fart at one point (2-4 months?).  So, when do they actually start telling you?  Lilah seems to be telling you now, right?  Both my kids were understandable fairly early, but not by everyone.  They were both in non-waterproof training pants during the day by 2 months, so they were pretty understandable by me.  Ari was the first one I tried using blowing raspberries as a cue sound.  She was 5 months old when I started it and she started blowing raspberries in less than 24 hours.  I was kind of dense, thought she'd just learned a new fun sound and so it took me a couple days to realize what she was telling me was not a joke but the communication of a serious desire.  So yeah, I don't know if they actually train earlier (well, having been involved in potty learning with several 3 year olds, I can say my kids were much earlier than that) but I think it's a lovely journey most of the time (not so lovely when a kid has gas and wants to go to the toilet 30 times a day to fart.  Or when you're on a long car ride with a baby who will tell you she needs to pee just to get out of the car).
Here is a pic of an easy way to hold over the toilet.
And another alternative to the sink (wow she was small, up above was him at 5 days. This is her at 4 days).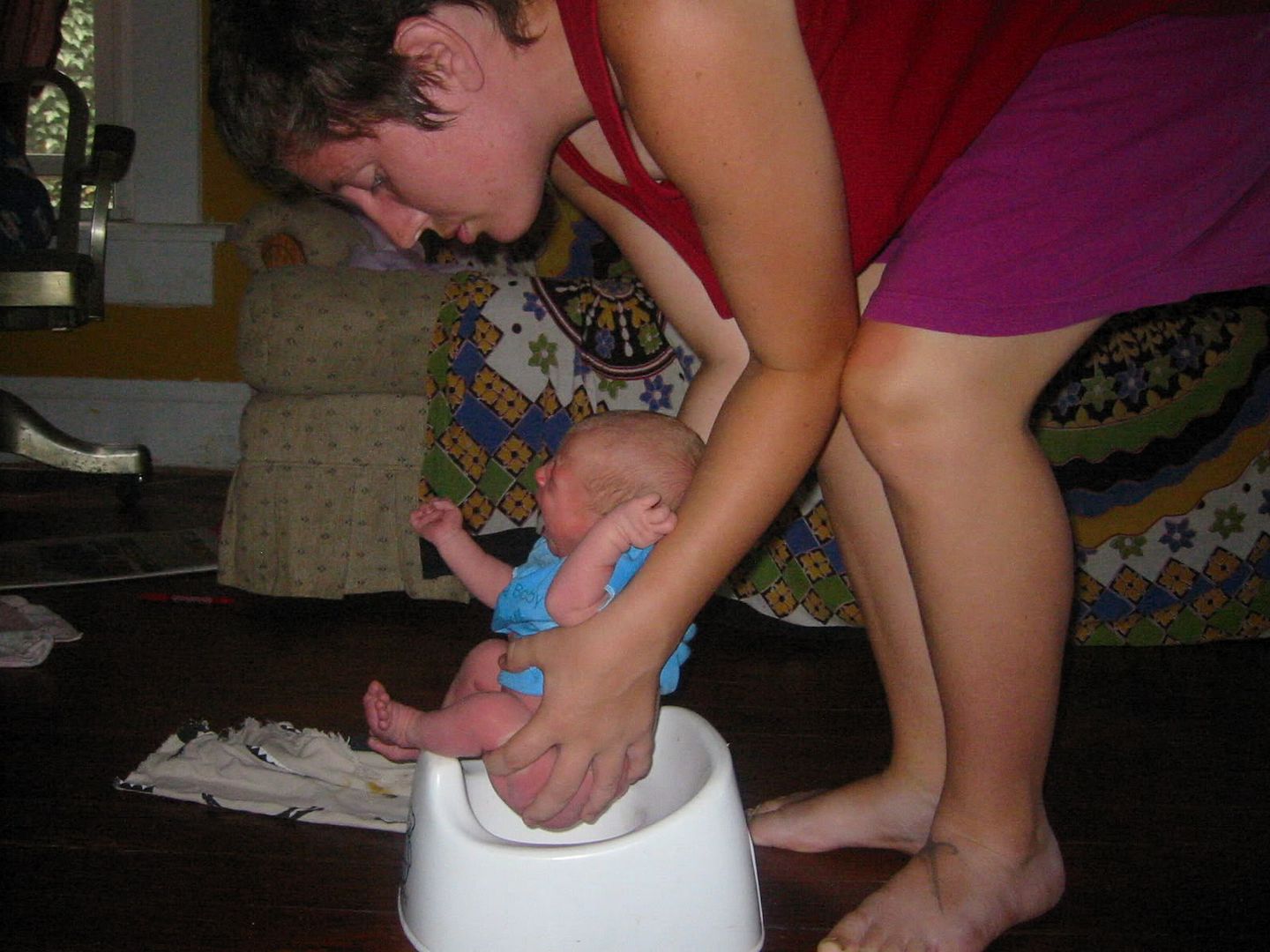 And here she's using a little potty bowl kind of thing, so it goes right up against the skin if you don't want anything to actually go in the sink (and don't I look exhausted?).
Qmama, baby dragonflies are dangerous!  Sara was driving a couple of weeks ago and a bee few in the window at high speed and hit her in the head and the bee was knocked out.  It landed in her lap and she pulled over to get it out of the car and the thing woke up and stung her.  Yay for 14 weeks.  That's about the start of the dreamy second trimester.  Enjoy your camping.  Are you going someplace especially cool?  Are there redwoods near you?
Indigo, the healthy baby surely does trump the it's a girl card.  I'm glad to hear you finally got results with the daycare situation.  What channel is the show on?
Isa, I outsmarted the deer, I don't have a purse!  I read your post about not being able to be a SAHM because of your experience with a toddler and I wanted to assure you that it's very very different with your own child.  It's like the difference between spending a week with a co-worker and spending a week with your partner.  A child who has been in your family her whole life is going to be used to all your quirks and expectations and routines.  Just as you will be used to her.  A child who you know socially but is under a huge amount of stress is not going to respond to you the same way as your own regular kid.  No stress, it's good any way you play the work/home balance thing, but it's not anything you need to fear.
Library, I'm sorry you're back to work, but I'm thrilled to hear from you more!  I love to hear how you and Miss Alice are doing.  I'm interested to hear how your partner is enjoying this time with Alice, too.
Pi, I always remind myself that those non-put-downable babies are smart.  Life is more fun in someone's arms.
We did a ton of work on the house in Columbus yesterday.  Sara and I pulled up the decking on the porch and laid down plywood while my mom and brother patched a hole in the roof.  We felt all kinds of productive.  Then we took Ari to her favorite Chinese/Japanese restaurant for her birthday and both the kids were sniffling.  At bedtime they both had weird, super anxious, can't sleep because I'm terrified issues (Ari had to have all the glow in the dark skeletons taken out of the room and be held to fall asleep and Osha was sobbing that he was afraid I would be dead when he woke up.  Really weird stuff for them).  I know some illnesses involve a feeling of doom, but I usually think of those as cardiac illnesses so I don't know what was up.  Ari fell out of bed (lower bunk, she didn't want to sleep in her own bed because her brother sniffling was making her crazy.  They have loft beds end to end so their heads are right next to each other.) and woke me up at 4ish because she couldn't figure out where she was supposed to be sleeping.  Then I couldn't go back to sleep.  Hence long middle of the night post.  The baby is well behaved as ever.  I'm getting more boy feelings lately.  Ari yesterday said she hoped it was a boy, so that might work out.  I have lots of braxton hicks.  They started being frequent at 32 weeks with Ari, so I'm thinking my uterus is going to be fast and efficient to say the least.  We keep talking about names and Sara has found some database that tells you how popular a given name is.   Like, 1800 people in the US have that name or whatever.    
seraf, the show is on tnt.  monday nights at 10 eastern.  :)
g
Hi Everyone,

Seraf: I tried your idea of a firmer bed (by taking off the egg crate foam mattress pad that was on our bed), and I think it helped a bit. Thanks for that suggestion! I'm sorry that you had such a rough night last night. I think you're definitely going to give birth before I do--I haven't had anything yet that I can identify as a braxton hicks. What's the news on if your person is going into a nursing home?

Indigo: Congratulations on your healthy girl! And I'm so glad that your daycare complaint was recorded! Hooray!

AmandaHope: I'm sorry that Lilah is still so uncomfortable. I hope that you're able to find something that helps more soon. Congratulations on doing some EC with her! My library doesn't seem to have any Hypnobabies CDs. I'll have to see if I can find them online. Thanks for the suggestion!

Pigirl: I'm sorry the PUPPS was so awful. I'm glad you're starting to feel better now!

Library: How did your first day back go? I'm sorry you have to be away from Alice, but I'm thrilled that means we'll get more news from you!

Isa: I'm so glad you're here! Isn't seeing the heartbeat wonderful? How are you feeling so far?

QMama: Congratulations on 14 weeks! Hooray for the second trimester! I hope your trip is terrific!

2ez: What a cute picture! You look great.

Mizyellow: I love your profile picture. So pretty! I'm sorry you had to deal with mastitis. I hope that is all better now!

AFM: 30 weeks today. On the one hand I don't want this pregnancy to ever end (I'm having fun now that the nausea is gone and my belly is cute!). On the other hand, I'm starting to get excited about meeting the kid. We still have lots of preparation to do, but we've gotten a lot done already, so I think it should be doable. I can't believe we'll be full term in just 7 weeks.

Pigirl--glad things are starting to be on the up! And a baby who won't be put down at least has the up-side of being super cuddly, right?
Library—boo for back at work! Yay for more time chatting! At least it's a half-week, right? So you get a nice weekend to get used to things?
AHope—that has got to be the grossest juxtaposition of personals ever.
I'll be curious to hear how more of your EC goes, and if you keep with it. I read a book about it when my friend was pregnant that I found strangely compelling, but I don't know if I'll have the patience to stick with it enough for it to really work.
Indigo—glad to hear they took things seriously! I hope that's enough to keep it from ever happening again!
Seraf—those name databases are addictive (to me, anyway). I have to keep telling myself that it doesn't matter if a name is popularish as long as we like it (though I'm trying to stay out of at least the top 200 baby names, I know that as soon as we choose one it will go up to #3 or something anyway). What is the site she found? I've only seen ones that rank newborn names, not existing ones. Sorry about the weird fear stuff—hopefully it's shortlived (ha! well, not ha, but still…ha!)
Escher—glad you're in the fun part of pregnancy!
AFM—everything's fine, I'm just managing to terrify myself that things aren't ok, or that something is about to go wrong, etc. I wish I could stop it (DP actually was trying to reassure me this morning and accidentally said, 'you know you're being ridiculous…' and then we looked at each other and laughed because she's right even if she didn't mean to say it). Still no real morning sickness, so either A. something is terribly wrong. B. I am incredibly lucky. Or C. it is waiting another week or two and then I will understand the meaning of the phrase 'God laughed'. Obviously I'm hoping for B followed closely by C.
Isa: Oops. I totally missed the lack of a transition from the poop talk to the food talk.  Sorry about that!
  As for EC, I'm not committing myself to anything big--just taking her to the bathroom when I happen to notice that she seems to need to go.  I think those fearful feelings in early pregnancy are perfectly normal, though not any fun.  If it is any comfort, I had almost no morning sickness with either of my two healthy pregnancies.  Did your mom have it with you?  Apparently that is a strong predictor. Neither my mom nor my maternal grandmother had it with their kids, either.  I was freaked out when I didn't have it the first time but just hugely relieved and thankful when I escaped it this last time.  Do you have other signs?  I think you said that you do, right? My boobs got huge right away this time, and I was pretty tired, too.  Those are strong signs even in the absence of m/s.
Thanks for the info, Seraf.  Your suggestion about the brush with the cleaner in it is great--I'll definitely suggest that to DP to see if it helps, and I might get those little potty bowls, too.  Cool site!  That is quite helpful.  I should have known there was a (or probably 1400) EC website and online store.  Wow.  Your pics are great, especially the over the toilet hold.  I may give it a try. Your babes were so tiny in those pics!  As for DP, yes, she has chronic fatigue, but in a strange way, that seems to make it easier for her to handle some sleep disruption.  She says she is always tired anyway, so she is used to functioning that way.  It is sad, of course, that she feels that way (tired all the time), but I appreciate and admire her willingness (even eagerness) to take care of Lilah when she is fussy and during the night.  I think it is helping her bond with the baby, which is a truly beautiful thing.  "Life is more fun in somebody's arms" is quotable, for sure.  Nothing like a little perspective.  And nice going on the home construction.  I'm impressed!  Tell me again--the house you are working on is not the house you are currently living in? 
Escher: I have an idea.  I copied all the Hypnobabies tracks off the CDs and have them in itunes.  Is there some way I can get them to you?  I could always burn them to CD and send it to you if you'd like.  Or I could try sending the files, though they may be too big.  I'll ask DP when she is up from her nap, since she is the tech person in the family.  Congrats on 30 weeks! Wow--you are really moving along now.
AFM: Well, Lilah did much less fussing between 9:30-11pm last night (the time she has screamed at least some every night since she has been born)--almost none, actually, since she fell asleep at 9:30 and didn't wake up crying.  So that's  encouraging, except that she was unusually fussy this morning and seemed to be in pain, especially during and after spitting up.  Ugh.  The reflux meds are supposed to last for 24 hours, but I wonder if they wore off during the night and if her symptoms were worse in the morning??  What a mystery. 
Good morning~ Or I guess it's noon now, so whatever.  Meetings all morning and now it's lunchtime (then more meetings).  It's a short week and we don't get kids til next Wednesday so it could be worse BUT I've got so many millions of things to do to get the library back into shape UGH!!  Anyhoo...  It was even harder to leave Alice this morning because she was crying when it was time for me to go, but DP said she was asleep before I left the driveway and slept for almost 3 1/2 hours, so clearly she wasn't in too much distress (me, on the other hand....)   So far so good with DP and Alice enjoying their days.  I made her promise not to do child psychology experiments on her, or at least not too many at one time.  We're both (all three!) looking forward to the heat to subside so that we can go on walks and stuff, or even sit out on the frickin' porch!  I think we're all weary of the living room/cave.
Indigo~ YAY for you and your persistence. I'm sorry you had this issue in the first place, but I'm glad it's finally making progress.
Seraf~ LOVE the potty pix! How funny! You EC folks are braver than I. I'm happy with our cloth diapers and don't know that I could do any more.  Alice is pretty clear about when she's pooping, but by the time she's making noises it's too late.  She does love to poop a bit then when DP gets the diaper off her, suddenly squirt out a bunch more. It's pretty funny. Not to DP, but Alice and I laugh a lot!
Isa~ Congratulations!! I forgot to say it yesterday, but I do mean it.  I never had any morning sickness and worried the whole time that it meant something was wrong, but maybe you're just lucky like me. You never stop worrying and scaring yourself, though.

Escher~  I hear you about not wanting it to end. Especially when you're feeling energetic and your bump is all cute and bumpy I remember thinking This is great!  And it's so nice to think of the baby in there all safe and cozy, so easy to protect.  Enjoy it for sure and then you'll enjoy meeting them. It's all good.
One more potty story: My cousin's little girl is just now potty training and likes to take a book or coloring book to the potty chair with her. My aunt has a  canary and when little Ava went to use the potty the bird was singing a wild loud song. Ava sat there with her coloring book for a minute then looked up at the bird and said "Will you keep it down! I'm trying to work a puzzle!"
Indigo, I'll have to check it out.  There are a couple of episodes online.  I'm avoiding deer on Monday nights, usually.
Escher, You saying that you're term in 7 weeks almost made me hyperventilate.  I have no intention of going before you, ladies first after all.  Does your uterus ever turn into a rock?  That was all mine did with Osha.  Ari got me going with more cramp-like rocks at 32 weeks (I remember because I was on my way camping).  This one started with less comfortable cramps at 26 weeks (I have them at least hourly).  I had mild BH all the way through with all of them.  My job seems secure for now.  I'm told they had the meeting and nothing was coming of it.  The OB visit wasn't bad.  They didn't mention that there could be any kind of problem.  The doctor this week is a fellow I have met in the community.  He was pretty laid back and told me after the GTT I should refuse any other labs.  He looked at some of them and said, that's not required.  And at one point he wasn't sure if something was OK and said, "Oh well, it's easier to ask forgiveness than permission."  Not really the attitude I would like during labor but it works for prenatal care.
Isa www.pokemyname.com I just looked up my(our) name and there are an estimated 6000 new Sara(h)s every year.  Yikes.  I think the only reason I wouldn't use a popular name is because I was one of 3 Saras in my class (of 30~).  So I was always Sara 2, Short Sara, Sara last name, Sara last initial or some other thing.  My older kids have a crazy common last name so I didn't want them to be John and Jane Smith. 
AmandaHope, there are lots of EC sites.  I think it's not a real commitment kind of thing, I was just lazy and got sick of diapers.  Most people just take diapers on and off.  The house, it's not the house I'm living in.  Poor girl. Maybe she has a hard time with the laying down?  Ari couldn't lay flat for months. 
Library, Haha, it sounds like she is waiting to finish.  If you notice her grunting and take off the diaper before she finishes she will start grunting earlier so you have more time to take the diaper off.    It's much easier to clean off if it goes straight into the toilet.  Just wipe and flush.  I like the new picture.