I got rid of my wedding gown
---
I went through a whole house purge last winter, starting with my son's closet. I had stuff stored up on the shelves that I hadn't seen for years.
One shelf contained large boxes. Two of them contained hats that belonged to my FIL. No one in my family would wear them - wrong size, wrong style. So I donated them to the local community theater. A month later I went to a play, and saw one of FIL's hats on stage!
The biggest box contained my wedding gown - it's been in that box since 1987. I took it to a woman who makes American Girls dresses from wedding gowns. The rest of the dress was given to another person who makes baptism gowns.
Here's the original dress: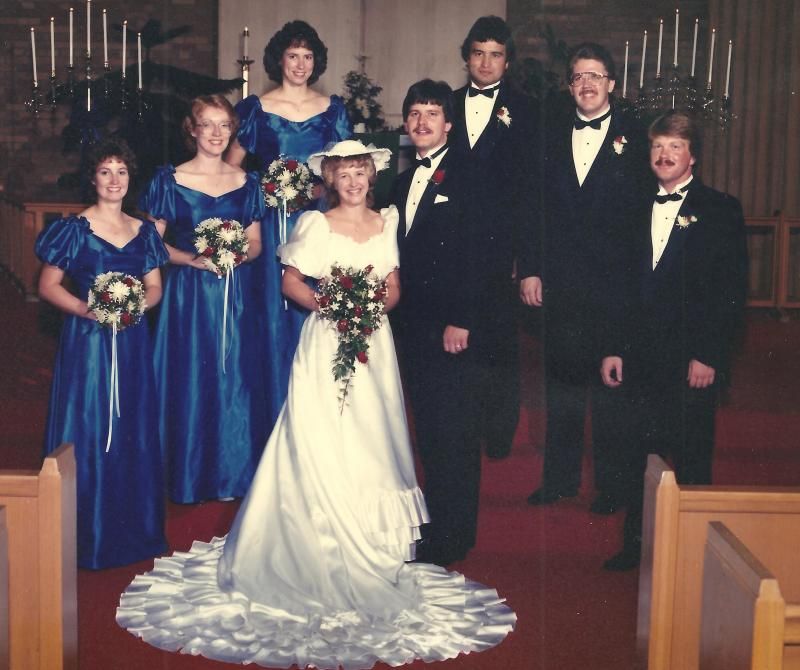 And the doll dress: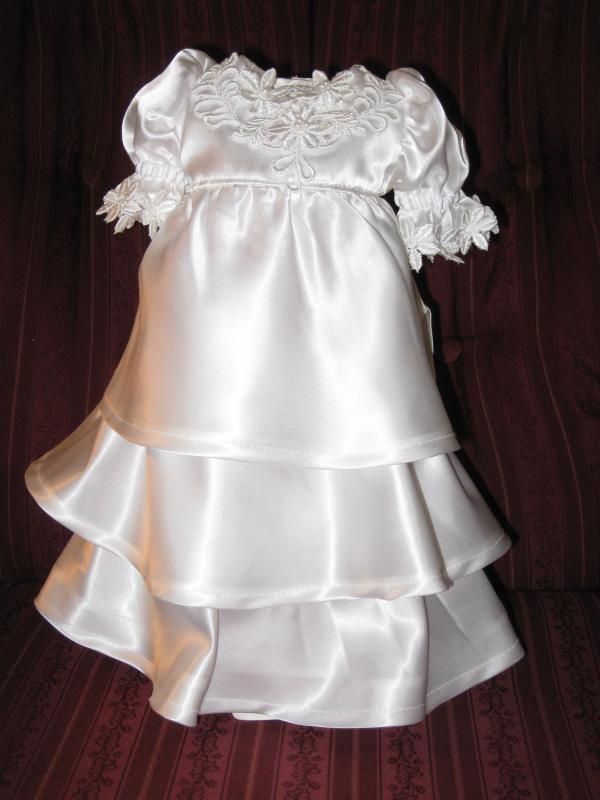 ---
If the chips are down, the buffalo is empty.
What a beautiful bride you were! I really should get rid of mine, too. I had the idea that one of my daughters might wear it someday but it wasn't even packed professionally and by the time my oldest is grown it will have sat in a closet for at least 35 years.
I still have my dress. It's in a box. I was bummed that I couldn't try it on a few years ago just for yucks without breaking the seal. I have no idea what I'll do with it but it's undoubtedly out of style so I probably couldn't sell it now. Luckily, my mom is keeping it for me. If it was living in this house, it probably would have been sold by now. I have lived in tiny places all my life and that would have been culled years ago.
---
Trusted
To view links or images in signatures your post count must be 10 or greater. You currently have 0 posts.
To view links or images in signatures your post count must be 10 or greater. You currently have 0 posts.
Join Date: Apr 2008
Location: In the Middle of everywhere
Posts: 1,193
Mentioned: 3 Post(s)
Tagged: 0 Thread(s)
Quoted: 53 Post(s)
That is a great idea! My original dress was a dress I wore to a school homecoming, it is little and doesn't take up much space, so I have kept it (plus since it isn't toooo dressy, so I have been able to wear it multiple times since then). Since my original wedding was just a small back yard wedding with only close family, a while after we were married and settled (and had more money), we did a bigger church wedding. I borrowed my sis in law at the times dress. So I don't have to store it thankfully....but her and my brother got divorced and she offered it to me. I surprisingly enough declined it..and told her that her family could have it (because it had bits of family heirlooms on it). For our 10 year, we did a vow renewal and I got a new dress. It is super cute and I hope that one day my kids might want to wear it. I don't think it is horribly trendy in one way or another...so hopefully the style will stay. I just hope that the white doesn't yellow. =S
Posting Rules

You may not post new threads

You may not post replies

You may not post attachments

You may not edit your posts

---

HTML code is Off

---
9 members and 8,964 guests
alenamiy , Bruno9o , hillymum , katelove , Leelee3 , moominmamma , NaturallyKait , Poddi , RollerCoasterMama
Most users ever online was 449,755, 06-25-2014 at 12:21 PM.