So, I try to be as natural as possible, but after four months of Infant excema, I tried a script. I am shocked!!!! I never knew Rosebud's skin could be so soft. Even when I thought their were no flare ups, I know now that her skin was still rough and SUPER dry.
Here is a photo of her back AFTER using hydrocortisone steroid cream...and it was an improvement. (want to show what i was dealing with on back, tummy, wrists, ankles, knees and milder version on scalp and cheeks) But, after using the prescription "derma-smooth oil" sparingly, once a day for 7 days she has buttery soft skin and NO irritation. I am so happy and LO is finally comfy.
I'm glad to be off it bc I know, and ped was adamant, that prolonged use is not good, but gosh I am so pleased that LO is better than I ever thought possible.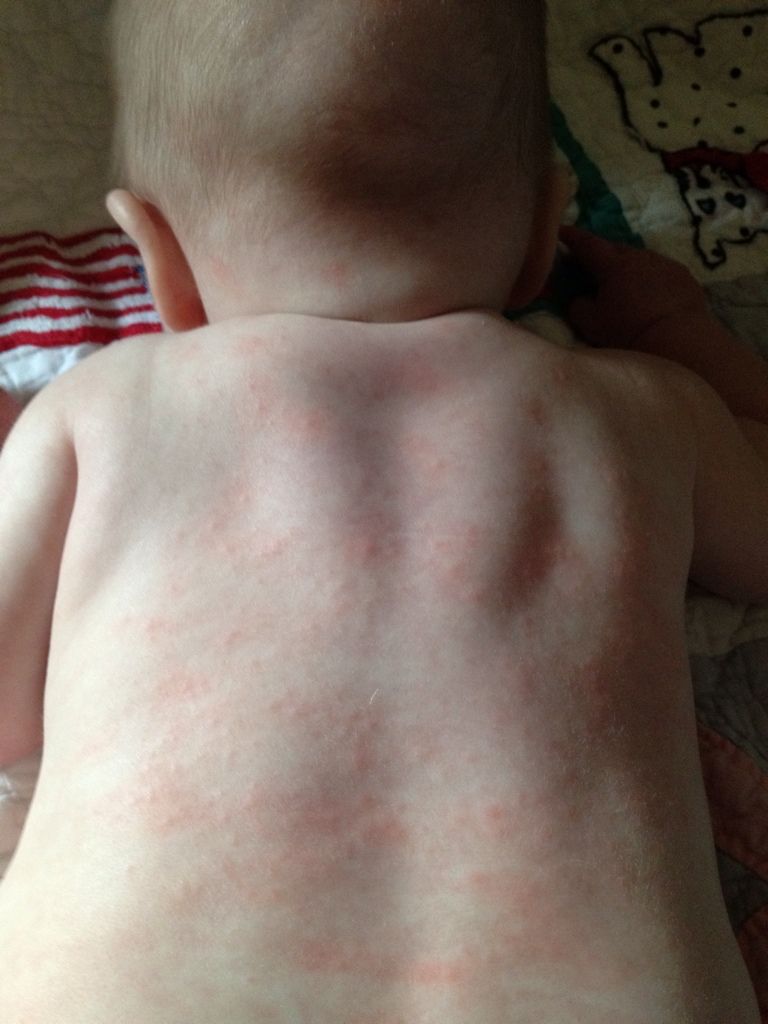 Administrator
Join Date: Aug 1999
Location: The Motherland
Posts: 38,824
Mentioned: 46 Post(s)
Tagged: 1 Thread(s)
Quoted: 147 Post(s)
Poor baby! If this is what she has AFTER the steroid cream I can only imagine it was much worse before. 
 Good that she is off it now. I hope you can find something to use other than the steroid cream if it flares up again. 
---
I am so frustrated and sad right now.

I used script for seven days (sparingly, bottle says twice a day, I did once a day) and then stopped. She has had baby soft, no redness or bumpy irritations....until today, the fifth day. She was fussy quite a bit today and I saw the start of a flare (just splotchy flat red spots) this morning. By 5:00 it was a full blown flare up on her upper back (so not as big of an area). I gave her a bath, which she LOVES every night...and she SCREAMED. And this is a baby that rarely cries, so I know it was hurting her.

Just so frustrated. Don't want to be using steroid, OTC or script, every other week! I used it topically on the one spot and she calmed down within minutes. My ped said to use sparingly and not more than 10 days in a row (take a break and start back if needed) because it "thins the skin" whatever that means...

I'm confused over wanting to eleviate DD pain/irritation, yet limiting use. I don't know if I should treat a flare immediately (like tonight) so that it doesn't get so bad that I have to use a script for seven days in a row....and I'm hesitant to ask doc bc they were hesitant to prescribe anything until DD skin was REALLY bad, and now that it's been prescribed I feel like she will say its okey to use as long as its not more than ten days in a row without a break..

My mom has bad excema (I've NEVER experienced it) and she thinks it's okay to use a steroid sparingly as long as not in sun exposed areas. She gets it bad on the arms, and said "thinning of skin" has caused sun sensitivity and bruising, DD is only 5 months!.....

Ugh. Sorry for the ramble. Just want DD to feel good and not be hurting her skin in the long run.
Okay, so I found out that an alternative to steroid can be nipple cream or baby kisses...both contain lanolin. Seems way more natural. I think it's worth a try? What do you think?
Posting Rules

You may not post new threads

You may not post replies

You may not post attachments

You may not edit your posts

---

HTML code is On

---
23 members and 12,056 guests
agentofchaos , crmapp035 , Deborah , emmy526 , girlspn , hillymum , jamesmorrow , Janeen0225 , kathymuggle , Kelleybug , leonclaudia593 , Linarsconsuelo , Lucee , momwithmany , moominmamma , mumto1 , nuezraquel10 , redsally , RollerCoasterMama , samaxtics , teacozy , verticalscope
Most users ever online was 449,755, 06-25-2014 at 12:21 PM.