Join Date: Sep 2008
Location: Manitoba, Canada
Posts: 443
Mentioned: 0 Post(s)
Tagged: 0 Thread(s)
Quoted: 0 Post(s)
My precious "little" Caroline is already three months old today! How time flies when you're having fun
This photo was taken today:
She is growing like a champ - already doubled her birth weight, haha!! (she was 7lbs. 4oz at birth, born at 37w3d)
Would anybody else care to share recent photos of their adorable January-ish baby?? (C was born in December, after all)
---
Wendy (26), married to my sweetheart since 2007. Mommy to Caroline, born Boxing Day 2010 by beautiful home water birth
Join Date: Jan 2006
Location: Texas
Posts: 3,097
Mentioned: 89 Post(s)
Tagged: 0 Thread(s)
Quoted: 88 Post(s)
I don't have any pics available on this computer :(. 
Abbott is HUGE!  He has been hovering around 14lbs for last few weeks, so since 2 months.  He was a little over 8lbs at birth.  He is SO sweet, it kills me!  He loves to cuddle and give kisses.  He thinks hes a big boy and hates to be carried like a baby.  He hates going to sleep, might miss something with the other kids you know?  But he has slept better for a few nights lately, giving me 7 HOURS straight last night!  Today is my 30th bday so I think that was his gift to me, lol.  But since sleeping better at night he likes to nurse almost all day, and we must NEVER lay him down, even for a moment, lol.
Can't wait to see more January-ish babies! and hear updates!
---
Amee + James (1998) = Amethyst (2002), Asheby "Bear" (2006), Abbott (2011), Atlas (2013), Astoria (6 July 2015)
Join Date: May 2010
Location: Vancouver, BC
Posts: 201
Mentioned: 0 Post(s)
Tagged: 0 Thread(s)
Quoted: 0 Post(s)
Love seeing all these amazing babies!!
Clea is doing great - she'll be 9 weeks old tomorrow. She's already over 12 lbs (she was 9lbs at birth) and is talking up a storm. She always wants to be moving or sitting up on someone's lap or propped up by pillows. She's a crazy night owl, though, she doesn't fall asleep until midnight or so, but then she only wakes once or twice until 9 am - but this is a huge improvement on her first few weeks, when she had day and night completely reversed. We're having so much fun!
Join Date: Dec 2007
Location: anywhere
Posts: 1,780
Mentioned: 0 Post(s)
Tagged: 0 Thread(s)
Quoted: 0 Post(s)
Elise will be 3 months in a few days. I have no recent pictures - oh, I guess this is what happens with the second child
She was 6 pounds 5 ounces when born and i think she is around 11 pounds or so now.
She is sooo vocal - we are now calling her Chewbacca. She gives us the business! And when she laughs, it's a little cough. I am convinced she hates being a baby because she wants to stand or sit up all the time and is always moving. Very different than my first baby. And she is sleeping 5 to 8 hours at a stretch. I am so thankful because I am still dealing with c-section incision that has not healed (stitch didn't dissolve all the way) so I am thankful I have a pretty happy baby while dealing with this.
---
Mommy to 2 beautiful girls
4/07 and
1/11
Join Date: Feb 2006
Location: Humid Houston
Posts: 941
Mentioned: 0 Post(s)
Tagged: 0 Thread(s)
Quoted: 0 Post(s)
Amelia Grace is 10 weeks.  I'm guessing she's about 13 pounds, was 7 lb 15 oz at birth.  She is such a sweet girl, full of smiles and OH so talkative. She adores her big brother and he adores her. Teething has begun (!!!) so she's wearing her teething necklace. She's been a great sleeper, 11pm to 6am. I have no idea how that happened but I'm thankful. (DS woke up every 2-3 hours until I nightweaned him at a year). 
I exclusively pump which has worked very well for us but presents a challenge with the "outside" world. People assume it's formula and don't believe that she's exclusively on breastmilk/ make comments under that assumption.  I have to say the second time around has been so so so so much easier! Maybe because I'm not worried about ruining my child and I "decipher" the signals much faster....
---
wife to DH, Mama to DS "Bug" (09/07), and DD "Sprout" (01/11). 
Join Date: Nov 2005
Location: Olympia, WA
Posts: 2,126
Mentioned: 0 Post(s)
Tagged: 0 Thread(s)
Quoted: 0 Post(s)
Here is my little guy, Liam Michael, I don't know how big he is now, but a month ago he was 6 lbs over his birth-weight at 13lbs. He was 7lbs 3oz at birth, 13lbs even at his 2m checkup.  He's pretty easy going, his laughs sound like hiccups or coughs and I discovered today he can roll from his tummy to his back.  He finally has established his sleep pattern, and sleeps 7-9 hours without waking, and then joins me in my bed to nurse and sleeps for another couple hours.  I am so glad we got his tongue clipped, not only is nursing a dream now, but he LOVES sticking out his tongue and playing with it.  He also outgrew the hour of fussiness he would have every night before he would fall to sleep, thank goodness, I don't know how I would do all this alone if he was a difficult baby.  Now, if only my 2.5yr old DD was so easy! *sigh*
---
Heather: Mama to my amazing boys A-14.5, C-13, & M-5.5, and my sweet girl S-2.5 and introducing our little surprise Liam Michael, born 12/28!
Micah is doing great--he weighed in at 10lbs 14oz at his 4month checkup (he was 2 months early and birth weight of 3lb 6oz). He loves to babble and smile at us--especially his older brother. I sometimes think that my oldest ds is Micah's favorite person! Unfortunately, we all had the flu a while ago and Micah still seems to be trying to recover from it. When we went to his 4mo checkup, he was actually wheezing and his dr put him on Albuterol. It isn't much fun giving an infant a breathing treatment! I thought he had finally gotten over it, but he seems to have started wheezing again a couple of days ago. *sigh* However, if that is the only issue from him being premature, then I will take it. I'm happy that we are completely nursing now and he actually doesn't even really like taking a bottle any more. Sleeping is going relatively well. Often, he will let us put him in his crib for the first part of the evening and then I bring him into bed with me after he wakes up for the first time. He is only eating 2 or 3 times per night which is so much better than my other two at this age. I feel relatively well-rested with an infant which is a feeling I've never had before!
I need to download pictures from my camera, but this one was taken mid-March (so 3 1/2 months or so).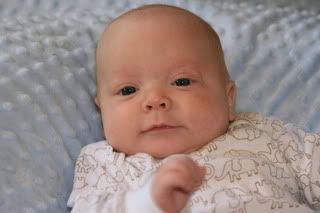 And this is what happens when you have older kids and a baby. They turned him into a "dinosaur". LOL! (sorry if it is huge. I tried resizing, but I don't know if it will take or not.)
---
Lisa, married and mama to 3 kids-ds (7yo), dd (6yo), & ds (2yo)
Join Date: Aug 2008
Location: Maryland
Posts: 496
Mentioned: 0 Post(s)
Tagged: 0 Thread(s)
Quoted: 0 Post(s)
Kyle is 3 months old today!  Wow I can't believe how quickly those 3 months went by, but I guess that's what happens when you also have a 2.5 year old to keep you busy!  He's doing great, getting sooooo big already.  DD was such a petite baby that this one seems huge to us.  He's already wearing 6 month clothes!  He was almost 12 lbs at his 2 month WBV but he doesn't go back for another month so I have no idea how much he weighs now.  I would guess close to 13 lbs if not more! 
He's sleeping at least 6 hours straight at night, sometimes 7 if I'm lucky!  I just can't believe it because DD never slept more than 3-4 hours at a time until she was much, much older.  I'm hoping he keeps up the good sleeping, lord knows I need my sleep with such an crazy toddler on my hands.  He's still nursing like a champ, every 3 hours during the day and pretty much just once at night (sometimes twice if we go to bed early).  He's smiling and cooing all the time which is just cute as can be, and he's started batting at his toys and grasping everything he possibly can - loves to grab my hair:/ 
DD still adores him but I think the novelty of a new baby has worn off.  She still asks to hold him but only a few times a week as where before it was several times a day!  She's started acting out a little bit too but we're not sure if that's just the terrible two's or maybe the jealousy factor, or maybe a little of both.  She's still a great kid but she's been driving us nuts lately. 
This isn't the greatest pic but it's the only one I have that's really recent, Kyle with his big sis Amber (aka 'crazy hair'!)
Here is a cute one of him smiling, this was taken abot 3 weeks ago.
 
---
Wife to DH, Mommy to Amber 10/01/08 and Kyle 01/09/11
Join Date: Jan 2011
Location: Salem, OR
Posts: 7
Mentioned: 0 Post(s)
Tagged: 0 Thread(s)
Quoted: 0 Post(s)
Here's Atticus at 2 months old. He's growing so much! He's wearing 3 - 6 month old clothes (they are big on him, though). I love how big our babies are getting! I can't believe how time flies! On a sad note, I started working again. So now I don't get to see him as much! It hurts, but it's for his benefit. :(
Posting Rules

You may not post new threads

You may not post replies

You may not post attachments

You may not edit your posts

---

HTML code is Off

---
14 members and 7,884 guests
alenamiy , alexbbbb , Cebadosusan , hillymum , katelove , mariafrancis02 , proandwear74 , santosedurne143 , Silversky , Sophie K , woodlifee04 , zebra15
Most users ever online was 449,755, 06-25-2014 at 12:21 PM.