When it comes to giving birth, one piece advice I'd give to first-time moms is to forget everything they've seen on TV and in the movies about birth. First of all, most of the portrayals are wildly inaccurate. Even worse, a lot of them are downright scary. Sure it helps add to the tension of the story if either mom or baby might die at any minute, but birth is rarely that way.
I set out to find realistic births in movies, but also to find the worst. It was surprisingly difficult to find ones that seemed to reflect a typical progression of labor.
So often movies show a woman in the middle of an emotionally fraught scene suddenly have her water break and then double over with contractions. Suddenly the mother must be rushed to the hospital and everyone around her is panicking, including the hospital staff. Quite often, after a tough (read: screaming through every contraction and cursing out partners and nurses) the baby is suddenly in distress or mom is told she is taking too long and ends up with a c-section. Now I know this does happen in real life, more often than it should. But wouldn't it be great if we are all exposed to healthy, low-risk, low-intervention birth?
But is that how birth actually goes? Well, yes and no. Of course, some mothers will have their water break. Some will have very painful contractions right from the get-go. Some will scream through the entire process. Some will end up with a c-section and some will end up with a natural birth in a car when they didn't plan on that at all.
Rarely do all those things happen at once. Typically a mother, especially a first-time mom, will be in labor for hours on end. Sometimes labor can even last several days. She may start having light contractions here and there. Then the contractions will move onto a more constant timed session of every ten minutes to every 5 minutes. Her water might break, but it also might not. Even if it does break, the baby still has a significant amount of time before it will be coming out (usually). Usually during these early stages of labor, mom will still be able to do some relatively normal things. She might take a shower, eat a final meal, or finish up packing her hospital bag. If she is laboring at home, she will set up her birthing pool, call her doula and/or midwife, and start working through the contraction pains.
Most mothers will arrive at a hospital and spend several hours laboring once they are admitted. They will walk around, bounce on a birthing ball, or be given an epidural to ward off the pain. Some may scream through every contraction, others may just breathe through them. For some new moms, pushing can take hours and exhaust her to the point where the baby becomes distressed and a c-section takes place. Other times, the baby comes out with a just a few pushes.
Oh, and let's not forget that mom might poop and/or pee all over the hospital bed while she's pushing.
Once the baby is out and everyone is happy and deemed healthy, the birthing process isn't over. Mom still has to deliver the placenta, which looks like a giant blob or liver. Sometimes that slips right out and other times it is a painful and dangerous process to ensure it detaches from the uterine wall.
Births are all different, even with the same mom. Babies decide how they want this thing to go, but honestly, most births look nothing like what you see in the movies.
In my quest to find the best and worst of birth videos, I came up with five movies in both The Birth Scene Hall of Shame and The Birth Scene Hall of Fame.
Birth in Movies Hall of Shame
1. Baby Mama
I love this movie, no doubt about it, but this one is classic in its portrayal. Mom's water breaks out of nowhere, cut to: screaming while being wheeled through the hospital, begging for drugs. Okay, so this was done for comedic value, but this is also not departing far from the "labor is a reason to panic" trope, we've all seen far too often.
2. Father of The Bride Part II
Another trope I hate is the certainty after one pain that "this is it; I'm in labor." I have to give some props to this film for including a false alarm trip to the hospital, but there's still the moment when the mom says "It's time," and suddenly the family panics, rushing around to get her to the hospital as fast as possible! Once she arrives at the hospital, she's plopped in a wheelchair and a man in scrubs pushes her down the hall in a full-on run. Once she's settled in her room, things are a bit more realistic. She copes with tough contractions, she relies on her attendants to talk her through the tough ones. Of course, this film also includes an emergency c-section, but I don't find nearly as much fault in that one as I do with our next film…
3. What to Expect When You're Expecting
This movie follows many expectant moms, and while I appreciate them trying to show a breadth of experiences, I had a major bone to pick with this one. One of the moms, once she reaches ten centimeters dilation, is simply told the baby is not coming and they have to do a c-section. The mom pleads, she has a birth plan, she begs to be able to keep trying, and the doctor doesn't even discuss it before pulling the "I know better than you and we have to save the baby" card. Again, I know this echoes some women's experiences, but there is an underlying fear I think a lot of women have that our babies will not fit through the birth canal. Scenes like this feed that fear, even though true in a small percentage of moms, this risk is way overblown.
Related: 10 Unexpected Things to LOVE About Childbirth
4. Nine Months
I realize I'm really picking on comedic birth scenes, but this one is just so full of panic and incompetency. The nurses seem to have two jobs: running around and wiping brows. The moms' contractions also seem constant; there's no break, just a lot of yelling and huffing.
5. The Twilight Saga: Breaking Dawn Part I
Right, so of course this one isn't realistic because she's giving birth to a half-vampire. But since this is a hit with teenage girls, I worry it will color the way they see pregnancy and birth. In this movie, the pregnancy itself almost kills the mother. And the birth, that scene is terrifying!  The labor actually breaks her back! She has a c-section via teeth! I found this scene impossible to sit through.
Birth in Movies Hall of Fame
1. Apocalypto
The birth in this movie is pretty awesome. The circumstances are fairly dire for this mama. (She's trapped in a deep hole and it's pouring and the water level is rising and she's caring for a toddler.) But the way she handles the contractions, then gets right back to what she needs to do was really realistic. She had to keep caring for her child, so she did. She breathed through contractions, and eventually she starts bearing down, and we see the baby emerge underwater. It's beautiful and realistic. The baby actually looks like a newborn and is still attached to its umbilical cord.
2. Children of Men
Like Apocalypto, this film shows a mom giving birth in less than ideal circumstances. And because in the premise of the film, no babies have been born in years, the mother, nor her attendant have any experience. This mom is acting all on instinct. She keeps it together, gets somewhere relatively safe, and then delivers her baby. This one also looks very realistic, a lot of care was taken in how this movie portrayed birth.
3. Call the Midwife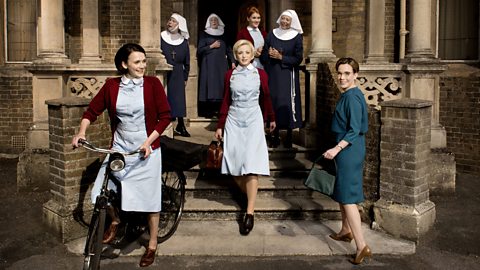 I realize this is a TV show, so maybe it shouldn't really count, but this show is about birth. And for each one there is such care to make it realistic and medically accurate. There are a wide range of experiences, and even though the show tends to show more dire circumstances (because, hey, it is more dramatic) there are a lot of women handling birth well and treating it as a natural physiological occurrence.
4. Knocked Up
Hey, a comedy made this list! I appreciate so much about how they showed this mama laboring. She doesn't rush off to the hospital as soon as she thinks she might be in labor. In fact, we see her wonder if this is really it. Once she starts timing contractions and settling in to the fact that she's in labor, she draws herself a bath to wait for things to get more serious. When it comes to the delivery, she's in a hospital and she is pushing for what seems like a while, which is really normal for first-time moms. The unrated version even shows the baby crowning. Sure, it was used for some shock value, but it didn't shy away from that reality of birth. At no time was anyone treating her like it was an emergency. That alone puts it in the hall of fame.
5. The Business of Being Born
I'm sure a lot of documentaries do a better job than most fictional movies, but this one has to make the list. For me personally, this movie changed how I viewed childbirth and was responsible for my seeking an out-of-hospital birth. We get to see quite a few moms laboring and delivering. There are calm labors, and tense labors. There are uncomplicated home births and unplanned c-sections. Seeing this movie is a game-changer for a lot of women, and for that alone, it gets props as being one of the best portrayals of birth I have ever seen.
What movies would you add to this list?
Image: Gorodenkoff/Shutterstock