As parents, we make a lot of choices for our kids that we hope will prepare them for the world we live in. Choosing which books we read with them is a great first step. I've always known the importance of reading, of fostering a love of books and of establishing calming and loving bedtime routine, but I hadn't really thought that the choice of books could be impactful. To me, it felt like any book the kid was into was a fine choice.
Then I was made aware of a campaign that has been gathering quite a bit of momentum and media attention:
We Need Diverse Books.
I began scouring the bookshelves at my library for books that fall outside of my white, middle-class, traditional-family-structure vantage point. I reached out to We Need Diverse Books, and I got to speak with Allie Jane Bruce, who is a Librarian for the non-profit organization.
I had a lot of questions about what qualifies as a diverse book and I wanted her take on why reading diverse books is important.
Bruce defined a diverse book as one that "recognizes that power structures in our society confer dominance to some groups along different aspects of identity, such as race, gender expression, sexual orientation, and ability."
Diverse books feature racial and cultural differences, disabilities, LGBTQIA characters, religious and economic differences. One of the more obvious advantages to having access to these kinds of books is that children from every background will be able to find characters that they can closely relate to. Every kid wants to see themselves in the characters they read.
What I hadn't considered as much, was that my kids, who have no problem finding white, able-bodied, middle-class kids in literature, would also benefit greatly from reading other narratives. Bruce pointed out that we want our kids to read books in part so that they are prepared for the world they are entering into. A big part of this is acknowledging whiteness.
I didn't exactly know what this meant, but Bruce explained that as a teacher, she was checking in with a student who was drawing a picture of a child. He had wanted to color the child so he would be "normal." What he had really meant was that he wanted to child in the picture to be white. I can see that it is important to distinguish "normal" from "dominant," and to work to change the balance of white dominance in our world. I also want my kids to understand that they have certain privileges, because I want them to be understanding and compassionate and to not to take these privileges for granted. These are conversations I want to have with them, and some of the best conversations we have are while we are reading books.
There's sort of a knee-jerk reaction for us as parents to downplay differences. Of course we don't want our kids to point and loudly comment on someone's difference. But at the same time, kids notice them. I'd rather discuss these differences curled up in bed, where my kids can ask me questions and I have the time to pause and think of thoughtful answers.
One of the big priorities for the We Need Diverse Campaign is to push publishers to put out more diverse books. So many groups are sorely under-represented. I asked Bruce if there were any groups in particular that were hard to find on the bookshelf, and without pausing she told me that she wished there were more Native authors and narratives--not just because they are under-represented, but because they have so often been misrepresented, stereotyped, and de-humanized.
There are ways we, as parents and readers and consumers can do our part to encourage publishers. "Buy your kids diverse books. Give them as gifts," Bruce suggested. "Read them. Request them at the library." If a books isn't at your library or your bookstore, ask them to stock it. I've always felt rather proud of the fact that when shopping for gifts for children, I often buy them books, but now I plan on being more intentional to buy diverse books.
If you're looking for lists of books, the
We Need Diverse Books website
is a great place to look. And beyond that, I asked Bruce for her recommendations, and I was floored at how many amazing and diverse books there are that I hadn't even heard of. These start from board books and go all the way up to books for teens.
Add some of these to your shelves, because I know I'm going to.
Mommy, Mama, and Me,
by Lelséa Newman, Illustrated by Carol Thompson
Whose Toes Are Those
, by Jabari Asim, Illustrated by LeUyen Pham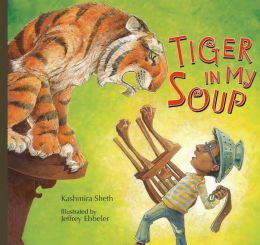 Tiger in my Soup
, by Khashmirah Sheth, Illustrated by Jeffrey Ebbeler
King For a Day
, by Rukhsana Khan, Illustrated by Christiane Krömer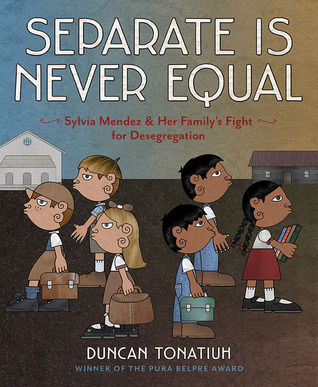 Separate is Never Equal
, by Duncan Tonatiuh
Lulu and the Duck in the Park
, by Hilary Mckay
Ling and Ting: Not Exactly the Same!
, by Grace Lin
Indian Shoes
, by Cynthia Leitich Smith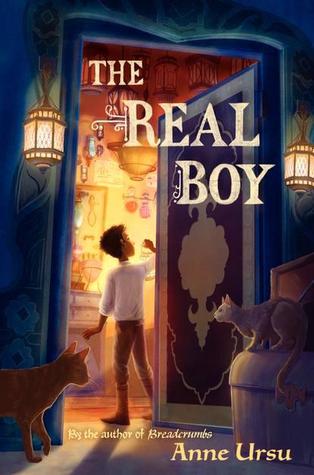 The Real Boy
, by Anne Ursu
One Crazy Summer
, by Rita Williams-Garcia
Cool Salsa: Bilingual Poems on Growing Up Latino in the United States
,Edited by Lori M. Carlson
If I Ever Get Out of Here
, by Eric Gansworth
Beyond Magenta
, Written and Photographed by Susan Kuklin
A Wreath for Emma Till
, by Marilyn Nelson, Illustrated by Philippe Lardy
Climbing the Stairs
, by Padma Venkatraman
What are some of your favorite diverse books?
Image:
anjanettew