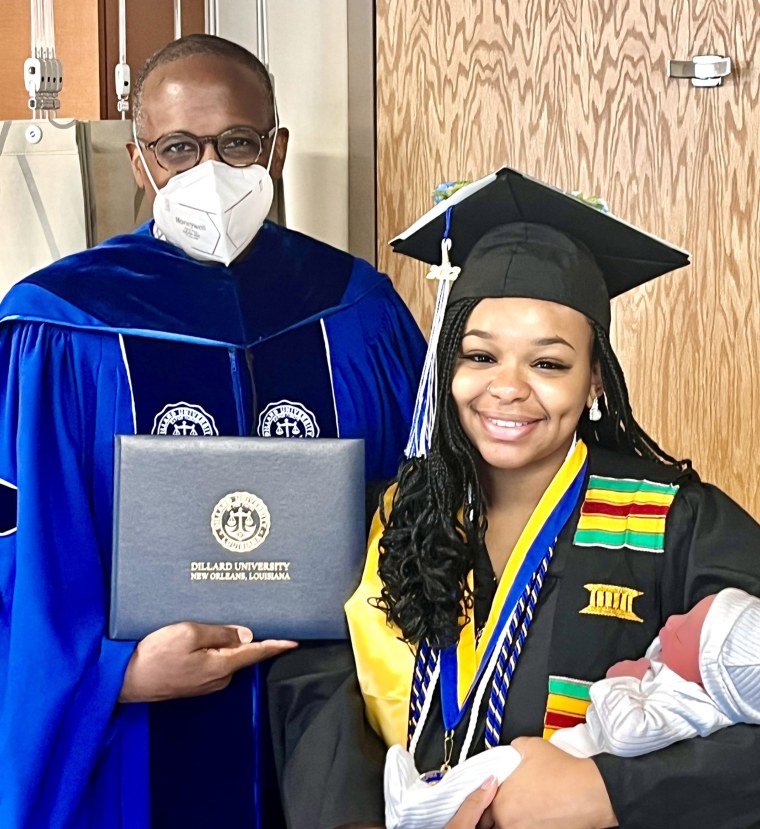 In a case of "Why can't the world be more like this?" a University President presented a new mom with her diploma in the hospital after she gave birth to her first child--on graduation day!
Jada Sayles graduated college and gave birth on the same day! She was in the hospital during the graduation ceremony, but that didn't stop her University President from giving her some really special and sweet recognition!
Sayles studied criminal justice at Dillard University in New Orleans. She couldn't believe that she was pregnant and that her due date was the day of graduation. Still, first babies are known to be on their own schedules, and often late, so she didn't worry about missing her big day.
In an article with Today Parents,
Sayles said that she felt contractions the night before her graduation ceremony. Just in case they weren't the Braxton Hicks she thought she was having, she went to Ochsner Baptist Medical Center and brought her cap and gown. She figured they'd just send her home, but after four hours of labor and 45 minutes of pushing, her beautiful son Easton M'Kale Fuller was born!
Sayles and Dillard University President Walter Kimbrough had a special relationship. She'd completed a sophomore fellowship under his guidance, and his wife was Sayles's pre-law advisor and freshman professor. Sayles said she calls Kimbrough her 'School Parent' and texted him to let her know that she'd be missing graduation.
But that turned out to be okay because the next day, Kimbrough showed up at the hospital wearing all his presidential garb and they created a graduation ceremony in her hospital room. They wanted to acknowledge all her years of hard work, especially during the times she was battling morning sickness and exhausted.
The 'ceremony' was attended by her older sister and cousins, and of course, baby Easton!
Kimbrough said this is the coolest thing he's done as president of the university for 18 years, and we think it's pretty cool too! Congratulations, Jada!
Images: HipHopPrez / Twitter